Choosing the best skiing boots is one of the most important things to do before you go out skiing. Tired, cold or sore feet will quickly destroy an otherwise perfect ski day.
With the right ski boot, you'll have a nice, warm and comfortable ski boot with good balance and the right stiffness for your ski style.
To help you pick the right ski boot, Prepare for the Wild have created this buying guide with everything you'll need to know before you buy your next ski boots.
How to Pick The Best Ski Boots
When choosing ski boots, you can't only consider the way the boots were designed. You also need to consider how your feet look and how you like to ski.
Size
The first thing to make sure is that you pick ski boots in the right size. Picking ski boots can be a bit confusing for the first time since ski boots aren't measured in normal shoe sizes but instead in Mondo Points. To know your size in Mondo points, you'll need to know how long your foot is in centimeters. Furthermore, to get the best fitting boot you'll also need to consider the width of your foot.
To get started, follow this video:
You can also use a shoe size converter like this one, but following the video above is a better option since shoe sizes can vary between brands. Sometimes people also wear shoes with larger sizes for a roomier fit, something you shouldn't do in ski boots.
Once you know your foot length in centimeters, then you know your size in Mondo Points. The mondo size is the length in centimeters. So, if your feet is 26,5 centimeters, then your Mondo size is 26,5 centimeters.
One thing to consider is that most manufacturers only produce ski boots in half sizes. This means the length of a whole and half size is not different. The only thing that differs is that a half size boot has a thinner footbed and a whole size has a thicker footbed. Another thing to consider is to get an aftermarket footbed. Custom footbeds give your feet a neutral position that will keep them warmer, helps blood flow and prevents calf problems.
Foot Width
If you followed the video above, you should now know your foot width. You should aim to get a ski boot that is within 1-2 mm of your foot width.
Ski boots generally come for narrow, medium and wide feet, and the width of the sizes are usually:
| | | | |
| --- | --- | --- | --- |
| Size | Narrow | Medium | Wide |
| 22 | <89mm | 90-94mm | >95mm |
| 23 | <91mm | 92-96mm | >97mm |
| 24 | <93mm | 94-98mm | >99mm |
| 25 | <95mm | 96-100mm | >101mm |
| 26 | <97mm | 98-102mm | >103mm |
| 27 | <99mm | 100-104mm | >105mm |
| 28 | <101mm | 102-106mm | >107mm |
| 29 | <103mm | 104-108mm | >109mm |
| 30 | <105mm | 106-110mm | >111mm |
| 31 | <107mm | 108-112mm | >113mm |
Flex
Now that you know what size to get, you'll need to consider what flex to get. Flex is a measurement of how stiff a ski boot is. The higher the flex, the more pressure it takes to bend the boot.
First off, you should know there's no industry standard in flex This means flex can vary depending on the brand, and even between different models. This means you should use it more as guidance instead of as a strict measurement.
Generally, beginners want to have a bit lower flex, and more advanced skiers should aim for a higher flex. Make sure not to go for a too stiff boot right away. A stiffer boot will give you a better response, but if you are not ready for it, it's gonna put you in the backseat of the ski.
As you can see on the chart, women's boots have lower flex and start at 50-60 for beginners to around 100 if you are an advanced skier and want really stiff boots.
But don't blindly follow the chart there are some expectations:
If you are an aggressive skier, go for a bit higher flex
If you are tall or heavy, you should step up in flex

If you weigh over 200 pounds, consider stepping up in flex
If you weigh under 115 pounds, consider stepping down in flex

If you ski mostly on hard surfaces such as a racetrack or use techniques that demand tip pressure you'll need a stiffer boot
If you are a park or freestyle skier, you should generally go for a slightly softer boot
Skiier Type
Are you a beginner that likes to ski on newly groomed snow? Or are you an aggressive park skier? Or perhaps an expert skier that prefers skiing in the backcountry? What kind of ski boots to go for depends a lot on the way you ski.
Beginner
If you are a beginner skier, you should definitely read our article on the best skiing boots for beginners, it has all the tips you need to find the perfect boots for beginner skiers.
Intermidate / Advanced Piste Skiier
If you are more of an intermediate to advanced skier, you should go for a boot that allows for more precise control and better turns. Your best option is a boot with a bit higher flex that will allow full control in any condition.
The most skilled skier often prefer a stiffer boot with high flex and a precise fit. This will allow maximum control on groomed conditions.
Race Skiier
Ski boots made for ski racing are made for performance and maximum control rather than maximum comfort. They are designed to be stiff and to have a very precise fit to provide ski racers with the quick response and the performance needed to win. If you are ski racing and want the best possible performance, these are the kind of ski boots to go for. However, if you aren't racing, go for a ski boot that isn't designed for racing and have a bit more comfort in mind.
Park/Freestyle Skiier
If you are a park or pipe skier, you often want to have a roomier boot and softer flex, so you get better and smoother landings without much shin-bang.
Freestyle boots have padding on the back so if you are sitting too far back when you land a jump, you don't get massive calf pain. They also often have a soft toe box so your toes don't jump to the front and you hurt your feet.
Backcountry Skiier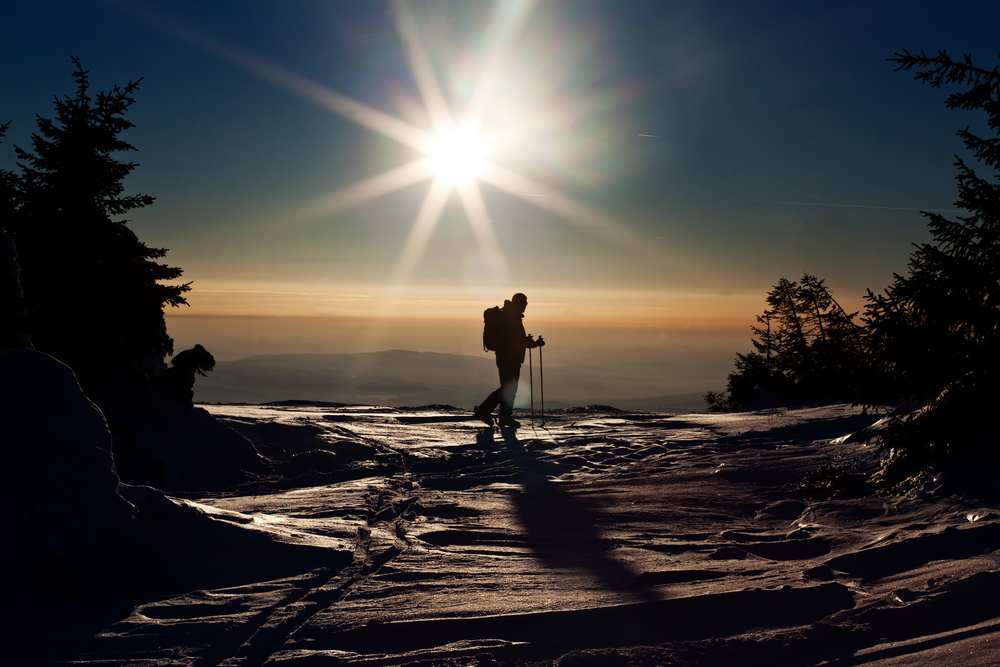 Backcountry skiing boots are similar to the kind of boots you would buy as an advanced piste skier, but they have some features that make them much more suited for backcountry skiing.
The big thing that makes backcountry skiing boots unique is the ability to switch to touring mode. Touring mode makes the ski boots both perfect when you are touring up the mountain and when you are skiing down it.
Most backcountry ski boots have tech inserts to be compatible with uphill tech bindings. If you plan to use them with ordinary downhill bindings look for interchangeable soles so you can use a touring sole to ensure a more reliable and safer release.
Features
Some high-end ski boots also have some features that will make using your skiing boot more convenient:
Flex adjustment: Boots with flex adjustment are great if you ski in different conditions and you, for example, want to increase the flex in the park but lower it when you are skiing in the backcountry
Cuff adjustment: Some boots have cuff adjustments so you can slightly change the cuff angle so it matches better with the angle of your lower leg
Ski walk feature: With a flip on some boots you can change the fit so it has much better rearward mobility. This is great when you are hiking up a hill or just walking down the village to the car or the hotel.
Conclusion
No matter if you are a beginner skier looking for your first pair of ski boots or are an experienced backcountry skier, with this guide you now have the necessary knowledge to make the right choice and find the best ski boot for your skill level and ski style.
This guide should be a good starting point and help you get a good pair of ski boots. We'll publish more guides, but for now, you can read about the best ski boots for wide feet, the best ski boots for narrow feet and the best ski boots for beginners.
Choosing ski boots is not as easy as many might think. In fact, this guide is more of a starting point. On our more specialized articles, we go even deeper:
Ski Boot Guides