Picking the best ski boots for a beginner skier is crucial for a good skiing experience. If you pick a ski boot that doesn't fit, the awesomeness of skiing is suddenly transformed into pain from your feet. Choosing a ski boot that is better suited for skilled skiers will make it much harder for you to have control over the skis.
That's why I created this guide, so you can find a ski boot that will make learning the basics of skiing easy.
In this guide you'll learn everything you need to know about your first ski boots. I'll show you how to get the perfect fit, and I'll show you the things you must look for before you buy any ski boot.
By the end of the guide, I'll show you our picks of ski boots for beginners and tell you both the good and the bad parts of each boot so you can be sure to know what to expect in your next ski boot.
Best Men's Ski Boots 2020-2021
Best Women's Ski Boots 2020-2021
How to pick the Best Beginner Ski Boots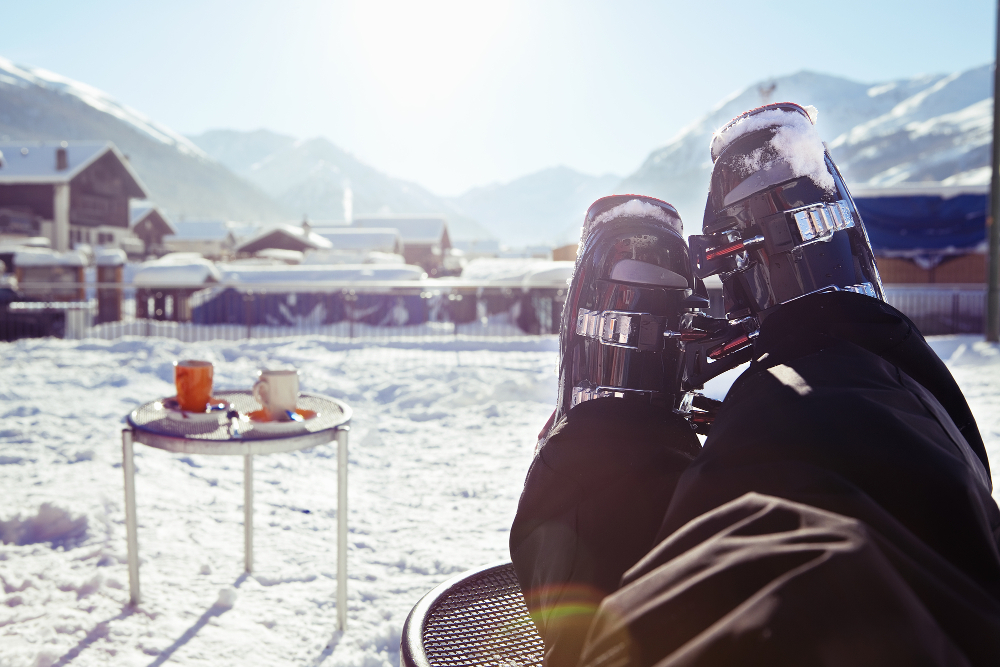 The best option for a beginner is a forgivable ski boot with a good fit that will allow for a comfortable day skiing. Let's look at each thing you need to consider when choosing a beginner ski boot:
Size
The first thing is to figure out is your ski boot size. Picking the right size is something I will cover in more in-depth in my general ski boot guide. But the short and sweet version is to get your size, measure your foot following this video:
Once you know the length of your foot in centimeters, get a ski boot with the same size in Mondo Points. So if your foot is is 26,5 centimeters, then get a ski boot with size 26.5. Also, consider the width of your foot and get a ski boot that is within 1-2mm of your foot width.
Flex
Flex is how stiff the boot feels. The higher the flex, the harder it is to bend and move the boot. Beginners should go for ski boots with low flex. Ideal flex for beginners is around a flex rating of 50-70 for men and around 40-60 for women. A ski boot with low flex is often the kind of boot that will provide the most comfort and warmth and have a bigger room for error.
A soft flex will make controlling your skis precisely more difficult, and if you expect to progress quickly, go for a bit higher flex. You should also go for a bit higher flex if you weigh over 200 pounds, or if you have an aggressive skiing style that puts much more power and force through the boot.
Design
A nice design might make your boots look much cooler, but the design of the boot should always come second. What matters in a ski boot is how well it fits your feet and your skill level.
Price
Buying ski boots can often be expensive. However, it's worth spending a bit more the get the right boot for you to prevent injuries, sore feet, and ensure you can enjoy skiing to the fullest.
The ski boot will be the link between you and your skis, and you will feel them all day. So even if you can get a ski boot for a bit cheaper, consider getting the more comfortable ski boot that is a bit more expensive. Because if you cheap out, it can often cost a lot more in lost skiing days. So don't miss valuable skiing days just because got a cheap but ultimately uncomfortable ski boot.
Skill Over Time
Let's face it, a ski boot is a long-term purchase, and if you are going to be skiing a lot, you will progress rather quickly. If you ski a lot, you can go from a beginner to an intermediate skier in just one season. Then, the soft but less precise boots might no longer seem like the ideal boots, and you might want something with better control and higher flex.
If you are a beginner and only plan to ski a few days per season, then a beginner boot is probably a good purchase but if you plan to do a lot of skiing, consider getting a boot with a bit higher flex, so you have the control needed as you progress as a skier.
Best ski boots Reviewed
---
Nordica Cruise 60: For the First-Timer
If you are looking for ski boots for your first time skiing, then one of the best options to go for is the Nordica Cruice 60. The last of the ski boot is 104 mm, so it's suitable if you have medium-wide feet and are looking for a comfortable fit. If you have narrow feet, these are probably not the ski boots for you.
These ski boots are designed to make skiing easier with maximum comfort. The Nordica Cruise 60 uses Nordica's natural foot stance technology. Most ski boots have a stance where your feet will point outward from your body. With the Nordica Cruise 60, you'll get your feet in a position more close to what you would have with your ordinary shoes. With a more natural stance, it's easier for a beginner to access the edge and make better turns.
Even if the Cruise 60 is a beginner boot, it can still be a good choice if you're a bit more experienced skier and prefer to cruise the green and blue pistes. But keep in mind these ski boots will be hard to progress with due to the loose fit and the low flex. If you are a complete beginner or a beginner-intermediate skier that just want to cruise down the easier pistes, it might be a solid choice. However, if you're going to ski more difficult pistes or take it to the snow park or the backcountry, you probably need a boot made for more advanced skiing.
Pros

Comfortable and relaxed fit

Good value for the money

Good build quality with buckles made of aluminum
Cons
Hard to progress with when you are an intermediate skier
Not the boot you take to the park or the big runs
---
Salomon Access: Comfortable Ski Boot for Beginner-Intermediate skiers
The Salomon Access is a ski boot all about warmth and comfort.
Thanks to the smart four buckle design, it's super easy to get in and out of the boot. On the top of the ski boot, there's a big Velcro strap, which makes it easier to get in and out of the boots.
The last is 104 mm, so it's suitable for medium to wide feet and it provides a comfortable fit. But this ski boot might be a bit too wide for you if you have a narrow forefoot.
Another advantage of these ski boots is the calf adjuster that allows you to change the fit around your legs, so it fits you better no matter your leg shape.
It's a bit stiffer boot than what many beginners prefer. With a flex of 80, it might be a bit more difficult as a complete beginner, but once you get the basics down, it will be much easier to progress with this much more responsive ski boot compared to a ski boot with a lower flex.
Pros

Warm and comfy

Calf adjuster for better fit

Easy to take on and off
Cons
A litle more flex than what most beginners want
Unprecice top strap
Not for narrow feet
---
Tecnica Ten.2 70 HVL Ski Boots: Best Beginner Ski Boot for Wide Feet
If you have wide feet and want a ski boot that will fit your feet perfectly and prefer ski boots with a high instep, then our top pick would be the Tecnica Ten 2.
HVL stands for high volume last so you can be assured these boots are made for wide feet. The Technica Ten 2 have a 106mm last on the male model, so there is plenty of space for those of you who have a wider than average feet. It has a square toe box, a wider forefoot, and a higher instep than most ski boots in the same price range.
The liner of the boot is warm and feels comfortable, but it's thick and quite bulky. If you feel that the liner is too bulky, you can heat mold it to get a better fit, or you can replace it with a lower profile model.
Technica has used a softer plastic across the top of the boot, something they call the Technica Quick Instep Max. With it, you gain extra height over the top of your feet, and it makes it far easier to step in and out of the ski boot. The buckles, made of metal, are micro-adjustable, so you have a lot of fit options.
This is a very versatile boot that performs well no matter if you are starting out on the green pistes or are more of an intermediate skier that seek a wide boot that will fit well.
Pros

One of the best ski boots for wide feet

Durable

Good performance in any piste
Cons
Thick and bulky liner
---
Rossignol Evo: Best Overall Men's Beginner Ski Boot
The Rossignol Evo series is Rossignol's entry-level ski boots made for beginners that want a comfortable and easy to use ski boot.
It uses a three buckle system with an oversized top buckle. The top buckle is designed in a way that makes it easy to adjust the width of the top of the boot for different calf shapes. To make it easier to enter and exit the ski boot, Rossignol added a softer plastic over the instep area.
The liner of the Evo series is comfortable and provides good warmth, but it's still a rather basic liner.
The Rossignol Evo ski boots has a 104mm last. This means they are best suited for medium to wide feet. The flex rating is 70 for men, so it has a lighter flex suited for beginners or if you want to cruise down the easier pistes.
It's a flexible and playful ski boot with good response, perfect for someone new to skiing.
Pros

Excellent comfort

Easy to put on and eazsy to take off

Adjustable for different calf sizes
Cons
Basic Liner
---
Dalbello MX 80: The Long Term Choice / the Next Step
If you are looking for a pair of ski boots to use for a long time, that will allow you to progress well beyond beginner; then our pick would be the Dalbello Panterra MX 80.
The last of the Panterra MX 80 has a width of 103mm, so it's a ski boot suitable for most feet shapes.
The Panterra MX 80 utilizes the Dalbello Hyperlite Shell. This means it's specially designed to be lightweight and provide a more natural and ergonomic fit. Some users report it can take some time to wear them in, but once they used them for a couple of skiing days, almost everyone loved the comfortable fit.
The flex of 80 is a bit stiff for some beginners and can make starting a bit more difficult. But it's still softer and easier to use compared to other similar ski boots. If you think you will progress quickly and want a ski boot that you can use from a beginner to a skilled skier on many good seasons of skiing, then this is a hard ski boot to beat.
Pros

Easy to progress with

Easy to asjut flex based on skill level and conditions

Excellet walk mode with releaseble cuff ofr a relaxed fit
Cons
A bit too high flex for beginners
Can take some time to wear in
---
Conclusion
When picking the best ski boots as a beginner, consider the price and the look of the boot, but what really matters is how well it's suited for your feet and your skill level.
Stiffer ski boots will make skiing a lot harder than it has to be. Make sure to pick a ski boot with a flex of around 60-80 if you are a beginner. Women's beginner boots often start with a lower flex of 40-60. If you are a long, heavy, or aggressive skier, you can decide to go for a bit higher flex.
Another important thing to consider is how fast you think you'll progress. If you are a dedicated skier and think you will improve quickly or get a lot of skiing days in, get a ski boot you can improve with even after you went from beginner to intermediate skier.
And if you go with one of the recommendations above, you'll get an excellent ski boot, perfect for a beginner and proven to help beginners take their first runs. Hopefully, this guide has helped you in finding a great beginner ski boot ideal for becoming a more skilled skier.