The best mountain bikes under $1000 bucks can handle almost all mountain bike trails and are easy to upgrade and to improve with.
However, you need to sure that you select a good product. It's easy to miss out on some of the key features that you need to look out for.
To help you select the perfect product, we created a buying with tips on how to choose a MTB in the 1000 dollar price range. We have also selected five mountain bikes that have the right components, the right price, and the right design.
Before you get any mountain bike, make sure to read our mini-reviews, or at least some customer reviews, so you know what to expect. In this price range, you should expect some minor flaws, but if you know about them before you purchase, you can often fix them before your first ride.
If you are in a rush and just want to know what's the best product is right now, have a look at this table:
Best mountain bikes for under 1000 dollars

What to expect in a mountain bike under $1000?
One thousand dollars is on the borderline between entry-level mountain bikes and mid-range mountain bikes that have some added features. We already have a guide on what to look for in the best mountain bikes for beginners guide. Much of the specs you should expect in the best mountain bikes under $500 still apply in this price range. However, there are some things that might stand out:
Mechanical Brakes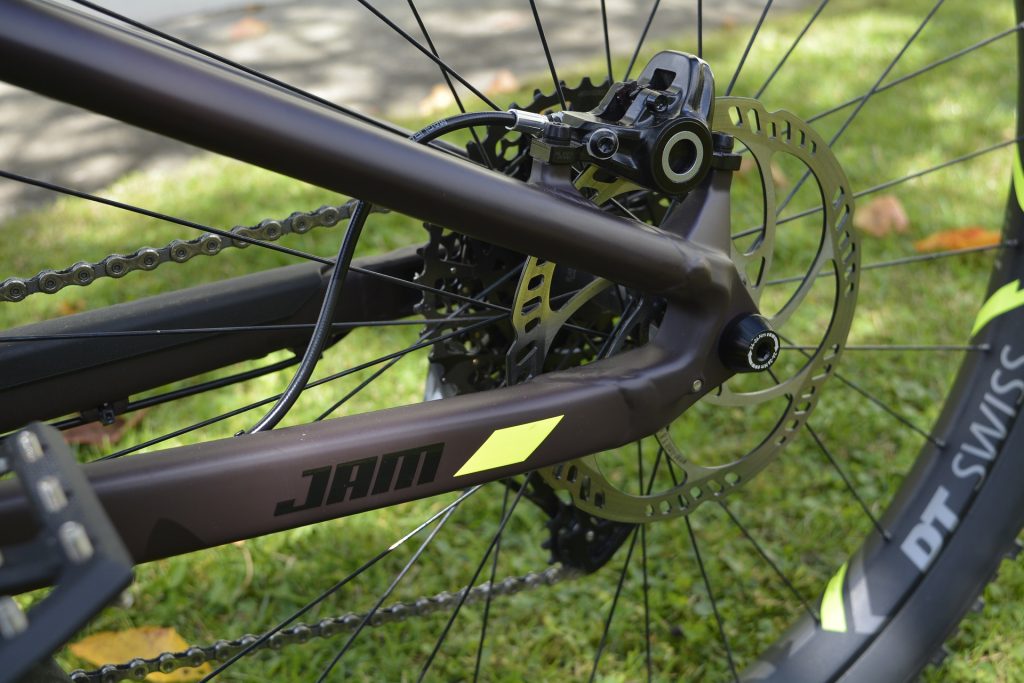 Mechanical disc brakes is a must-have on any beginner mountain bike. Avoid rim brakes and get a bike with good disc brakes that have reliable stopping power in any condition. Most models in this price range have standard disc brakes that work with a cable. A few models in hydraulic disc brakes. Hydraulic stops the mountain bike using hydraulic fluid and gives the best stopping power you could get. The downside of hydraulic brakes is that they demand a bit more maintenance. Around once or twice a year, a shop mechanic has to flush old brake fluid and replace with fresh fluid, also known as bleeding the brakes.
Shimano or SRAM Gear Systems
Almost all quality mountain bikes under $1000 have Shimano or SRAM gear systems, and there are good reasons for it. With a gear system made from SRAM or Shimano, you can be sure of a quality product that is easy to upgrade as you progress as a mountain bike rider.
Quality Frame
Most mountain bikes under $1000 are made of aluminum. When it comes to suspension, it will most likely be a hardtail mountain bike. While you can get few full suspension mountain bikes for under $1000, they almost all have some considerable drawbacks.
Most full suspension mountain bikes under $1000 are from Chinese knockoff brands you never heard of. These bikes might be great, but it's usually not worth risking the money on something you can't be sure of the quality and customer support of.
Shorter Stems and Wider Handlebars
One of the trends in mountain bikes at the moment is shorter stems and wider handlebars. More and more mountain bike manufacturers create models with 60mm or shorter stems with 740mm or wider handlebars. The reason this is gaining popularity is that you get added leverage on the handlebars and better control. This trend is usually found in more higher-end mountain bikes, but there are now even models with shorter stems and wider handlebars in the < $1000 price range.
Consider Mountain Bike Acessories
Before you spend all your money on the mountain bike itself, remember you're going to need some accessories.
Protection is necessary. Protect your brain and avoid serious injuries or death with one of the best mountain bike helmets. Some mountain bikers, mainly downhill and enduro riders, also wear pads for added protection.
Some tools for fixing your bike on the go such as a multi-tool and a simple repair kit will come a long way if your bike breaks down on the trail.
If you want to look good and have the correct gear for a comfortable and sweat-free mountain experience, you should consider some good mountain biking appeal. Mountain bike clothes to keep in mind is mountain biking shorts, mountain bike shoes, and mountain bike gloves.
Some other things to have in mind if you want to get the most out of your mountain biking is action cameras for shooting footage. If you want a good and easy way to carry water, consider getting hydration packs and if you want tons of data, remember the bike computer.
Best Mountain Bikes under $1000 Reviewed
---
Diamondback Lux 3 Women's Mountain Bike
If you are looking for the best women's mountain bike under $1000, then our choice is the Diamondback Lux 3. It's a mountain bike that has been specifically designed to suit women mountain bike riders. This means it has a comfy Devive edition women's saddle, the handlebars are only 720mm, and the grips are more narrow. With a weight of just under 32 pounds and large 27.5″ wheels, you'll get plenty of confidence to tackle any trail you throw at it.
The included Rockshox 30 silver suspension fork has 100mm travel and will float over bumps in the terrain. You can, thanks to the rebound and compression adjustments fine-tune it to suit the terrain you're tackling. Unfortunately, it has no lockout so pedal efficiency on climbs, in particular, won't be as good as a front suspension with lockout. The frame of this bike is quite stiff, so it can feel a bit bumpy on tougher terrain. However, it's possible to upgrade it to air suspension if you want to get a higher quality suspension fork.
The drivetrain of the Diamondback Lux is the SRAM NX 1×11. It's a 1x drive train, that is easy to shift and will last a long time. You only need to change gears with a single shifter, and 11 speeds give still plenty of adjustment and help on both the hills and the descents. Another advantage of this beginner's mountain bike is the Shimano hydraulic disc brakes. These brakes will give you precise and instant stopping power in any conditions.
This means the Dimanondback Lux MTB has everything you're going to need for a low maintenance beginner mountain bike.
Pros

Lightweight and durable build

Single SRAM drivetrain with 11 gears

Hydraulic disc brakes from Shimano for excellent stopping power
Cons
Front suspension has no lockout
The stiff frame can feel a bit bumpy on rough terrain
---
Raleigh Bikes Tokul 2 Mountain Bike
The Tokul 2 is a nimble and light mountain bike with excellent stopping power and a surprisingly powerful suspension for the price. The 1×9 Shimano drivetrain is fantastic for almost all riders. A single drivetrain means less maintenance and fewer gears to keep track of as a beginner. The downside of having only nine speeds is that climbs will be more challenging than with a mountain bike with a wider gear range.
The hydraulic disc brakes, made by the reputable brake manufacturer Tektro, will stop on a dime.
Out on the trails the Kenda honey badger tires grip well and work great on easier trails and fire roads. However, if you want to ride demanding downhill lines, you might want to upgrade them.
The biggest drawback of the Tokul 2 is the pedals. They feel cheap and is probably the first thing to upgrade on this bike. Fortunately, a good pair of pedals such as the, HT PA03A cost less than 40 bucks.
Another thing to be aware of before you get this bike is that the steerer tube is not tapered. This means if you ever want to upgrade the handlebars or the stem down the line, it will often be hard and expensive.
Even if this bike has some disadvantages, it's a great beginners mountain bike. Raleigh Tokul 2 is an excellent mountain bike that you can use in a variety of conditions. Since it's easy to upgrade, it's also an exceptional bike to upgrade once you want to take it to the next level.
Pros

Easy to assemble

Competitive price

Quality name brand components
Cons
Cheap-feeling pedals
The stem is not threadless
Might need some upgrades down the line
---
Mongoose Men's Tyax SUPA Expert
The Mongoose Men's Tyax Supa Expert mountain bike is advertised as a beginner mountain bike for cross country mountain biking.
With a weight of 14.2 kg (31.5lbs), it's considered quite a heavy bike for cross country mountain biking. As a beginner, you won't notice it much, but on a long climb you might wish you had a lighter bike.
The best thing about this mountain bike is the good front fork performance. The Sun Tour XCM suspension fork has good rebound control, and it helps you instead of fighting back as some cheaper suspension fork might do. Another advantage of the suspension is that it has a hydraulic lockout so you can you turn it on when going uphill to improve pedal efficiency.
The Kenda Small Block Eight tires are large 29-inch tires for maximum surface area. They are great for fast, flowy trails and perform great in dry conditions. When riding in muddy conditions, they tend to stick a bit in the mud.
Shimano is known for making durable and reliable mountain bike components, so with a 24 speed Shimano drive train, you can be sure you have something reliable and easy to upgrade. Some felt the drivetrain was a bit clunky to shift but since it's a Shimano drivetrain you can always upgrade it down the line.
Pros

Fast 29-inch wheels

Nice fork performance for the price

Shimano hydraulic disc brakes
Cons
Heavy for being XC focused
Clunky shifting due to entry-level shimano drivetrain
---
Diamondback Overdrive ST
The Diamondback Overdrive ST is no-nonsense cross country trail bikes with quality components and the right look. This is a bike that is a great and affordable option to take offroad on flat terrain or bunny trails. If you, however, want to take it to steep technical terrain, it's not the right bike.
When you get the Diamondback Overdrive ST, it comes 85% assembled. Depending on your skill, it will take between 30 minutes and an hour to make the final assembly.
The frame material of the Diamondback Overdrive ST is the standard in this price range, alloy aluminum. The pedals of the bike feel cheap and are one of the biggest cons of the bike.
The 27.5″ DB SL7 tires are large and knobbly and provide good grip and quick handling for maneuvering around obstacles. Both wheels have quick release levers, so it's easy to do any repairs out on the trails.
The best part of the Diamondback Overdrive ST is the Tekro Aries mechanical disc brakes. They have 160mm rotors on both wheels and have excellent stopping power.
Another quality component is the 24 speed Shimano 3×8 drivetrain. The wide range of gears is excellent when climbing; however, they do require more maintenance than a 1x drivetrain.
Some cheaper mountain bikes have a component that you'll almost have to change if you want a good mountain bike experience. This bike's component to change is the saddle. Changing the uncomfortable saddle to something more comfortable is quite cheap and definitely worth it.
Pros

Quality brakes with excellent stopping power

Easy to assemble

Looks great
Cons
Not suited for steeper technical trails
Cheap feeling pedals
Uncomfortable saddle
---
Conclusion
If you are searching for the best mountain bike for less than 1000 dollars, then this guide has shown you exactly what you need. We have after extensive research and after reading tons of user and expert reviews, selected the absolutely best mountain bikes under $1000!
Our favorite mountain bike for women for less than $1000 is the Diamondback Lux 3. It's a light and durable mountain bike that can take female riders from beginners to experienced mountain bikers. To make it easier for beginners, it has a nice 1x drivetrain, so you don't have to focus on switching gears with both hands. Another great feature of the Diamondback is the Hydraulic disc brake that will stop on point in any weather.
If you are a guy that wants to get into cross-country mountain biking the Diamondback Overdrive ST is an excellent starting point. It's light, fast and looks and feels great. It won't perform well in demanding downhill trails, but it' excellent in bunny trails and flatter offroad trails. Another good XC option is the Mongoose SUPA Expert MTB, with fat 29-inch tires, perfect for fast, flowy trails.
If you care less about weight and speed and want something that can handle more demanding trails, then the best mountain bike you can get for under $1000 is the Raleigh Tokul 2. There are some components you might want to change, but after some small upgrades, it's a high-quality mountain bike for a competitive price.
No matter what mountain bike you decide to go for, we hope this guide has something that suits your riding style. For more good options, check out our guides about the best beginner mountain bikes and the best mountain bikes for under $500.