Getting the best mountain bike for a beginner isn't as simple as you might think.
You need to get a quality frame, the right type of brakes, futureproof components, and preferably a gear system that is easy to use.
Many beginner mountain bikes have the looks but lack the components you need to tackle challenging offroad terrain. Luckily you are at the right place.
We have created a guide on exactly what to look for, and have after tons of research selected five mountain bikes that are all solid options for beginners.
If you're just starting out, we recommend you to read the full buying guide. However, if you are in a rush and want to know the best options right now, check out this table:
Best Beginner Mountain Bikes 2019

The Beginner's guide to choosing a Mountain Bike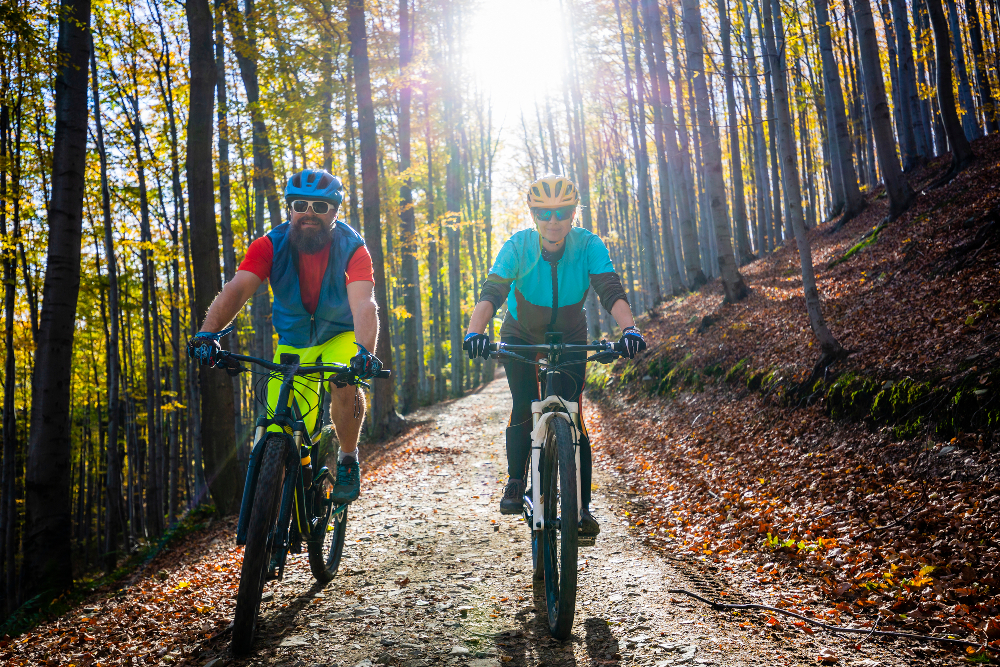 Choosing your first mountain bike can be a difficult task. To make it easier for you and to help you avoid getting overwhelmed, we created this guide. It will show you what to look for, what to avoid, and how you can get the most out of your money.
Best Wheel Size for Beginners
A recent trend in mountain biking is larger wheels. A couple of years ago, most mountain bikes had 26-inch tires. These days most mountain bikes have 27.5-inch or 29-inch tires. Larger wheels have added surface area so you get better contact with the ground. They roll over obstacles better and give added control when climbing and cornering. If you are a larger rider or want higher speed, go for 29-inch wheels. If you want a bit more agility in the trails and want a bit better control, go for 27.5-inch wheels.
Most mountain bike tires are 2.25 inches wide, but you can sometimes find wider tires. Added width can give you added confidence as a beginner and will provide you with better performance in softer terrain. If you want to ride in really soft terrain such as sand or snow, then consider a so-called fat bike. Another thing to consider when it comes to the wheels is to get a good threaded pattern and knobby exterior for maximum grip.
Make sure to get a mountain bike with quick release levers. Quick release levers will allow you to quickly remove the wheels without any tools. If you get a mountain bike that has wheels connected with nuts, it can be problematic. Especially if you ride without any tools and get a flat tire on the trails.
Hardtail Vs. Full Suspension
Hardtail mountain bikes have a suspension fork in the front. Full suspension mountain bikes have both a front suspension fork and a rear shock.
Beginner riders will almost always buy a hardtail as their first mountain bike. Hardtail mountain bikes have a more affordable price suitable for someone starting out. Another advantage of hardtail mountain bikes is that you'll progress faster. Since you can't rely as much on the suspension, you'll be forced to choose your lines better, and that will improve your skills.
Full suspension mountain bikes add another layer of complexity and cost. They usually cost $500 – $1000 more and they demand more maintenance and have some added weight. A full suspension bike could be a good option if you live in an area with tons of downhill trails and you're really committed to downhill mountain biking. Another reason to get a full suspension bike as a beginner is if you have back problems. The added suspension will allow you to ride tougher terrain much more smoothly and will cause less stress on your back.
Futureproof Bikes with Quality Components
If you go to the local supermart, like Walmart, you'll find tons of cheap "mountain bikes." There are some major issues with these bikes. The components of these off-brand bikes are unreliable and often won't have the quality and performance you're going to need on the trails. Another issue with off-brand mountain bikes is the upgradability. When you process as a rider and want to upgrade your bike, the wrong parts will be almost impossible to upgrade.
To help you select a good futureproof mountain bike, we have three upcoming sections on stems, brakes, and gears. After reading this, you'll know how to choose futureproof components that will last a long time.
Stem – Choose the Right Type
The stem is the component of the mountain bike that connects the handlebars to steerer tube of the bicycle fork. There are two types available, quill stems and threadless stems. Older models and some cheaper modern models still have a quill stem. The downside of a quill stem is that it's hard to replace and nearly impossible to upgrade. If your quill stem breaks you might not be able to use the bike anymore but changing a broken threadless stem is simple.
The easiest way to identify a threadless stem is by the pinch bolts and the four bolts holding the handlebars. The lower price of a quill stems might entice some riders, but it's almost always worth going for a threadless stem. The upgradability, easer service, and less service cost make a threadless stem the way to go.
Brakes – Don't ignore this
The key thing to think about when it comes to the brakes of the mountain bike is to get a mountain bike with disc brakes. Disc brakes are very reliable and will stop the bike even if it's covered in mud. They are virtually maintenance-free and are a much more reliable option than what you find in cheaper bikes. Avoid mountain bikes with rim brakes. Disc brakes are activated by cable, but on high-end mountain bikes, you can find disc brakes that use hydraulic fluid. Hydraulic disc brakes are better, but any disc brake is better than a rim brake on a mountain bike.
If you get a bike with entry-level disc brakes, you can always replace them later with better ones.
Derailleur – The (Only) Way To Go
The derailleur is what handles the shifting of the gears in the mountain bike. When looking at a derailleur for your mountain bike, make sure it's from a reputable brand that you can trust on the trail. Shimano and SRAM both make good derailleurs you can trust. Another advantage of getting a Shimano or SRAM derailleur is that's it's easy to upgrade to a better model.
Make sure the bike has a derailleur hanger. The derailleur should be hung on a piece of metal, the hanger.
The derailleur hanger is the part that will break on a crash, so you don't get any damage to the frame of the bike. Damage on the frame can often be costly and might mean the end of the bicycle. A derailleur hanger is easily realigned and replaced.
Almost every mountain bike has a purposely built derailleur hanger. If you look at a bike that has the derailleur mounted directly to the frame or use some kind of band-aid solution, it should be a red flag.
Gears that are simple for beginners
Many beginner mountain bike riders have a reluctance to change gears. Bikes with 24 or even more gears can easily overwhelm beginners, so it's often best to get a bike with a single shifter. Mountain bikes that have only one shifter have what's known as a 1x drivetrain. It's straightforward to use a 1x drivetrain. They are also lighter, quieter, and need less maintenance, but they are also often more expensive.
Fewer gears make climbing a bit more challenging. However, for a beginner to intermediate rider, it's usually good enough with a 2×8 or 1×9 drivetrain.
The Compromise
Notice:
Light. Durable. Cheap. Pick 2
For beginners, weight is usually the factor that has the least amount of importance of the three. The recommended beginner mountain bikes on this guide are all affordable and sturdy. They are also, however, a bit heavier than what you could get in a higher price range.
Once you're no longer a beginner and want a very light and sturdy mountain bike, then it's time to start spending some serious money. Before that, though, we recommend one of these affordable beginner mountain bikes:
Best Beginner Mountain Bikes Reviewed
---
Diamondback Overdrive 29
With a tried and true design, this 29er is a classic hardtail mountain bike that is perfect for beginner hitting their first trails. It has a quality aluminum frame that will give the rider a nice, aggressive stance.
The bike comes almost fully assembled, but you need to do some final tweaks before you can take it out to the trails. Add the pedals, put on the front wheel, put on the seat, and tighten the handlebars with the included tools, and you are ready to ride. It's a straightforward process that takes somewhere between 20-60 minutes depending on how technically skilled you are.
The two components you might want to upgrade is the seat and the grips. The saddle is hard, and many found it uncomfortable after longer sessions. The grips have little to no cushioning so you might want to spend a little bit more on some nice, comfortable grips.
It has excellent performance on the trail and suits beginners that want to experience the efficiency of 29-inch wheels. Once you've progressed, it's still a good bike for an intermediate rider. With quality name brand components, it's easy to upgrade, and it's made to last.
The Shimano 3×8 drivetrain shifts smoothly and gives you 24 gears to choose from. The suspension fork doesn't have a lockout, but the wide gear range will help you cranking uphill. When going downhill, the mechanical disc brakes will help you stop in time no matter the trail conditions.
Overall, this is an excellent mountain bike for beginners, but you might need to upgrade the stiff handlebars and hard saddle.
Pros

Excellent components for the price

Reliable mountain bike with good trail performance

Easy to assemble
Cons
Uncomfortable saddle
Grips has no cushioning
Quite heavy
---
Diamondback Bicycles Hook 27.5″
The Diamondback Hook is a true beginners mountain bike made of quality components for an affordable price.
It has a handbuilt, sturdy aluminum frame. The low-slung geometry is great for beginners. Since it's long in the front and short in the back, it gives the rider an aggressive stance that makes the bike easy to maneuver.
If you are going to be riding longer sessions, it might be a good idea to get a more comfortable seat. The seat is okay for a shorter mountain bike rides, but if you're about to sit on it a long time it starts to feel uncomfortable.
One great feature of the Diamondback Hook is the SRAM 1×8 drivetrain. This is a quality drivetrain that is reliable and smooth to shift. As a beginner, you only have to focus on one shifter instead of two, which makes it easier to get started. It's always better to use one shifter well than getting overwhelmed by tons of gears. The downside of having only eight gears is that climbing uphill with this mountain bike will be more challenging.
The DBSL-7 wheels are 2.5″ wide and are deep and precise and have quick-release levers. With a wheel size of 27.5″, it's a maneuverable mountain bike but not as fast as competitors with 29″ wheels.
With 120mm of suspension travel, the SR Sun Tour XCM suspension can handle bumps and soak up chunder.
If you need to break you can rely on the powerful Tetra Aries mechanical disc brakes.
Since this mountain bike consists of quality name brand components, it's easy to upgrade it. The only thing you need to consider in terms of upgradability is that the headtube is not tapered. This means it can be hard to upgrade to better fooks without a headset adapter.
Diamondback has good customer service and has many ways to help you, including live chat and tons of tutorial videos if you ever need any help after the purchase.
Pros

Sturdy bike built from high quality materials

Simple shifting system with low maintance needed

Easy to put together
Cons
No tapered head tube
Uncomfortable seat for longer rides
Only 8 speeds make climbing harder
---
Vilano 26″ Mountain Bike
Many of the mountain bikes of this list are custom built for trail mountain biking. If you want a more versatile choice that you can use commuting to work, cruising around campus or take offroad, then a great option is the Vilano 26″ mountain bike.
This is a bike that will draw attention for its unusual design and cool looks.
The frame of the Vilano 26″ is a double-butted aluminum frame. It's a very sturdy frame, but with a weight of 40 pounds, it's quite heavy for a mountain bike.
The alloy mag wheels are solid but a bit small. Larger wheels would help you go faster and make it more comfortable to ride on rough terrain.
When going uphill the Shimano Tourney derailleur with 21 gears and the suspension fork with lockout will help you pedal uphill with ease.
Going downhill with this bike can be a bit rough. The suspension fork tends to sink and bottom out, and the brakes are not the best. The brakes are mechanical, but they tend first to grab on too much and then not enough.
Assembly is quite simple, but if you are uncomfortable to assemble it or need help tuning it, you can always take it to a bike shop or bike mechanic.
Pros

Cool design that stands out

Sturdy frame

Front suspension has lockout
Cons
Poor suspension that sinks and bottoms out
Not as responsive brakes as you would want on a technical trail
Heavy
---
Raleigh Bikes Tokul 2 Mountain Bike
The Raleigh Tokul 2 is already on our list of the best mountain bikes under $1000.
This is a light and nimble mountain bike that suits most mountain bike riders. It has a light and durable aluminum frame and 27.5″ Kenda Honey Badger tires. These wheels grip well and will help you gain confidence on your first trails.
Another thing that will add confidence in a beginner is the Hydraulic disc brakes. With these disc brakes, you can be confident you can stop in time no matter the conditions you're riding in.
Be aware that the stem is not threadless. This means it will be hard to upgrade and repair it.
Some customer reviews of the Raleigh Tokul 2 mentioned that they decided to upgrade the pedals. The included pedals can feel cheap and many upgraded them to something better, such as the HT PA03A pedals.
A great feature for beginners is the 1×9 drivetrain. A single drivetrain will allow you to focus on only one shifter and require less maintenance than a more complex derailleur. With only nine gears, it's a bit more work to climb uphill. However, it's almost always worth sacrificing some uphill performance for a simpler drivetrain as a beginner.
Pros

Easy to assemble

Competitive price

Quality name brand components
Cons
Cheap-feeling pedals
The stem is not threadless
Might need some upgrades down the line
---
Conclusion
It's easy to get overwhelmed as a beginner when looking at all the available mountain bikes on the market. However, just by looking at some key features, you'll have a much easier time finding the best beginner mountain bike:
Our buying guide has helped you in choosing the right wheel size and the right components. It also covered the difference between hardtail and full suspension mountain bikes and some key features to look out for. We then made it simple for you:
We have after thorough research selected the best mountain bikes for beginners as of 2019. These mountain bikes have the right features and components that make mountain biking easy to pick up. All our favorites will last a long time and are easy to upgrade as you progress as a rider.
Mountain biking is truly an awesome sport and a great and fun way to experience nature. To get started, all you need to do now is to choose one of the best beginner mountain bikes above.