Being out in the wild in colder weather is all about staying warm, dry, and protected against the elements. When the temperatures and your activity level change, you'll need something that can adapt, so you don't get wet and cold.
In Sweden, we have a saying: "There's no such thing as bad weather, only bad clothes." This guide will show you how to use a layered approach to get the most out of the cold winter days. With the right layers, you'll never have to be cold again.
The Secret to Staying Warm Even if It's Freezing Outside
Layering your clothes is the ultimate way to maintain warmth and stay comfortable the whole day. It's all about wearing multiple layers of clothes on top of each other.
Generally, you'll see three main layers, the base layer, the middle layer, and the outer layer. Sometimes you'll add more layers or remove a layer. How you can adapt the layered approach is something we'll discuss in-depth further down in this guide.
Layering clothes is a great idea both when you are active and when you're sitting down on a cold day:
With a layered system, it's easy to change how warm you dress. This is an ideal way to handle changing temperatures, varying activity levels, and the different weather you'll face when you're on the move.
When you sit down for having a lunch or maybe on the ski lift, you can add a layer or swap one of your layers to a warmer option.
If you get cold, put on layers, and when you get too hot, take off layers to regulate temperature.
Why Should You Even Consider It?
To understand why you should use a layered approach, let's first answer the question of why do we get cold?
Your body will almost always lose heat in cold weather by one or more of these ways:
Radiation
Your body radiates heat; just have a look at the human body when photographed with a heat-sensitive camera!
Evaporation
This one is for all the active folks outside. When you do physical exercise, moist air will evaporate off your skin. When the warm air leaves the body, it will evaporate and cool off. This cold air will, in turn, draw the body heat from you by something called conductivity.
Conductivity
When something hot touches something cold, the heat will get transferred from the warmer object to the colder object. This is the reason you'll feel a lot colder when you are wet.
Convection
Convection is when you get cooled down by the cold air running over a surface. This is commonly referred to as the wind chill factor.
Why is Knowing This Even Important?
A proper layered system will combat each of these factors!
The moisture-wicking properties of the inner layer will keep you from getting frozen from evaporation and conductivity. The insulation from the inner layer will keep you from getting cold from radiation. The outer layer with excellent protection from wind will protect you from convection.
A layered system is simply an amazing way to stay warm, no matter the weather. Another advantage of wearing multiple layers is that if you ever feel too hot, you can always just remove or adjust a layer!
Now that you know why you should do it, let's look at how to do it:
How To Layer
The best way to truly understand how to layer is to go through each layer. We'll also give you tips on what to look for and what to avoid.
Base Layer
The base layer serves the purpose of bringing sweat and moisture from the body through the layer and outward. It's usually made of a thin layer that sits next to the skin. It's designed to keep a tiny layer of warmth next to the body, but the primary purpose of it is to wick sweat away from the skin.
There are generally two ways to go when it comes to the material of your base layer. You should aim for either a wool-based or a synthetic base layer. The most common wool choice is merino wool.
Both merino wool and synthetic materials have their advantages and disadvantages:
Merino Wool
Doesn't itch or scratch
Neutralize body odor
Environmentally-friendly and renewable
Warm even when damp
Synthetic
Drys even faster
Cost less
Often lighter than merino wool
A common mistake is to wear a base layer made of cotton. Cotton binds water well; in fact, it can bind water up to 27 times its weight. Water conducts heat away from the body 25 times faster than air, so it's essential that you stay away from cotton that will soak up any moisture.
Everyday items people use in their base layer is cotton socks, cotton underwear, and jeans. These items will soak up the sweat, and once the moisture has cooled down, it will draw heat from your body. With the wrong clothing, it's surprisingly easy to get hypothermia, even in mild weather.
Middle Layer
The primary purpose of the middle layer is to provide insulation and keep you warm. It's the most versatile layer of the three layers. Here you'll find everything from warm fleece shirts to light Windstopper jackets.
Which mid-layer should you choose? This depends on two main factors, temperature and activity level.
The temperature is what determines how much insulation your middle layer should have.
The amount of insulation is measured in grams:
| | |
| --- | --- |
| Amount (grams) | Suitable for |
| Under 100 | Spring and autumn |
| 100 – 150 | Warmer winter days |
| 150 – 200 | Cold winter days with temperatures of less than 20 Fahrenheit |
| Over 200 | Freezing winter days when temperatures reach sub-zero Fahrenheit |
These numbers are just guidelines. If your layer has poor breathability and traps a bunch of moisture, you might need more insulation.
The activity level will often decide what type of garment you'll use for your middle layer. You can group the garments in mid-layers into two groups, active and passive garments.
Active
One of the most common active garments is fleece. Fleece has many advantages:
Designed for active use and great at letting sweat and excess heat to escape
It's a durable material that will last many seasons
The thicker the fleece is, the more heat it will trap. If you are out in milder weather, a thin microfleece is often the best choice. If you are out in colder weather, a mid-weight fleece is a good option that will trap plenty of heat.
The other common material for an active middle layer is softshell. Softshell is a synthetic material that will repel wind and even snow and rain. If you only need two layers, for example in spring or autumn, you can use your softshell jacket as your outer layer.
Passive
Passive garments are designed to trap loads of body heat and are ideal for passive activities.
You'll usually find either down or synthetic insulation in a passive middle layer.
Down insulation is made of feathers and is usually warmer and lighter than synthetic insulation. The downside of down insulation is that if it gets wet, it will reduce it's insulation abilities.
Synthetic insulation is often not as light and warm as down insulation. The upside to it is that it won't lose the ability to stay warm even when it gets damp.
Outer Layer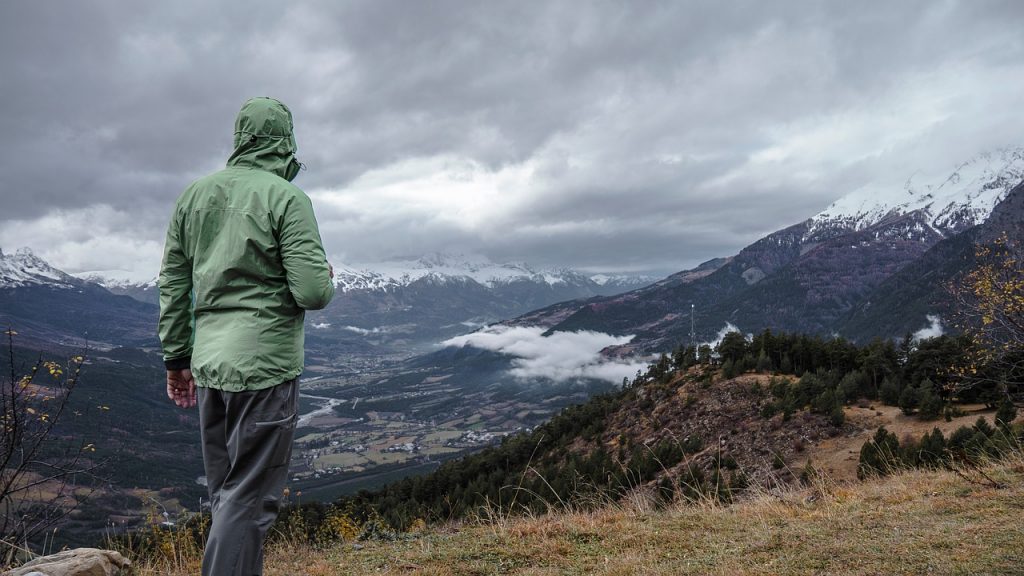 The outer layer is the layer that will protect you from the though weather you'll face out in nature.
One of the most important parts of the outer is to protect against wind chill. The National Weather Service based wind chill on the rate of heat loss from exposed skin caused by the effects of wind and cold.
Smithsonian Magazine used the example of a day where the temperature is 10 below zero F. In a day with 5 mph winds, you'll face a wind chill index of minus 20 and on a day with 35 mph winds, you'll face a wind chill index of minus 40. That's the difference of lasting 30 minutes in the cold to just 2 minutes before you face hypothermia.
When it's windy you'll lose heat much faster and one of the best ways to protect yourself from the wind chill is a good wind-resistant outer layer.
Many garments with excellent wind resistance tend to lose out on breathability. Make sure you strike a balance between wind resistance and breathability.
Another important thing to consider is how well it protects from snow and rain. You can find how waterproof an outer layer is by looking at the waterproof rating.
It's measured in mm, and you'll usually find outer layers in the 5000mm – 20000mm range. If you want to be sure it can handle rain and snow, aim for a grade of over 10000mm. For those of you that are going out in really wet weather, you could even look for outer layers with ratings of over 20000mm.
The shell of your outer layer is essential; it's the shield that protects you against the elements. The type of shells you'll find can generally be categorized into three main categories:
Paramo
Paramo is the heaviest material of these three options, but that won't affect its breathability. It has excellent breathability and is a versatile option that will work in many temperatures and weather conditions.
Membrane
There are many different kinds of membrane materials. You've probably heard of some of them. The most famous ones are Gore-Tex, eVent, and NeoShell. An outer layer made of membrane fabric has the advantage of being lightweight and easy to pack down. It's not as breathable as Paramo, but it's excellent at protecting you from water and snow.
Coated Nylon
Both membrane and Paramo are ideal when you are on the move and need a very breathable shell. If you instead want a material with good insulation for walking or sitting at the campfire during winter, coated nylon is the way to go. It's the least expensive shell you'll find in a middle layer, but you'll feel sweaty if you take it to high intense activity.
The last thing to consider as with all parts of the layered system is the breathability.
A good mid and inner layer can only take you so far. Your outer layer needs to prevent moisture from getting trapped in the system. If not, all your other layers will be in vain.
Adapting the Layered Approach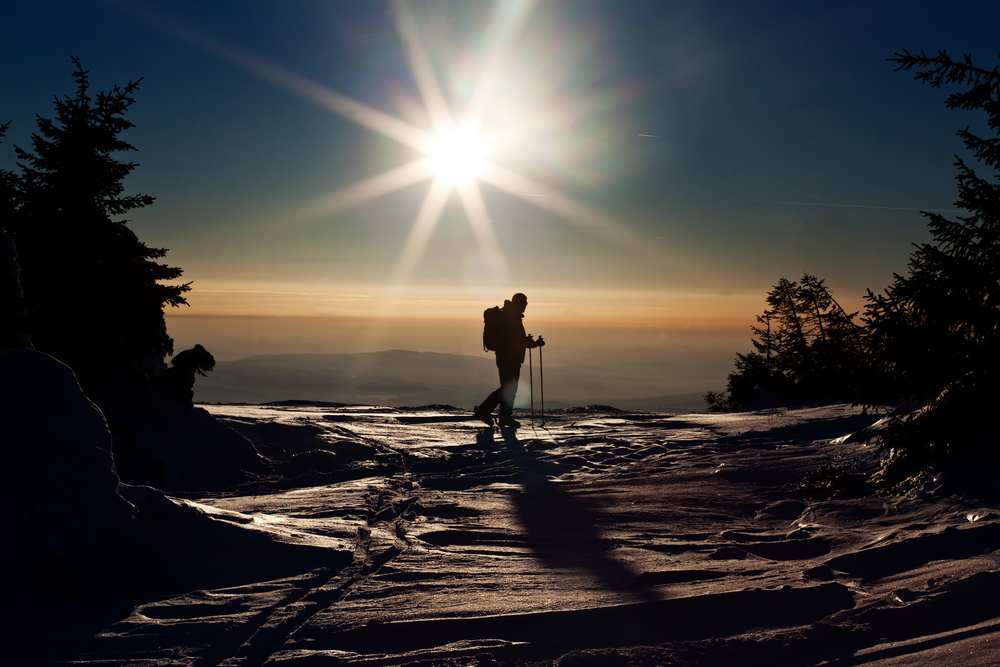 One of the beautiful things about a layered system is how easy it is to adjust it to either increase or decrease the overall warmth.
According to polar explorer Eric Larsen the biggest problem isn't getting cold. It's getting too warm and sweaty. With the right layered system, it's easy to remove a layer when you get too hot.
Here is a short example of how to adapt when you dress in layers:
You start a cold morning with three warm layers. As the day get's warmer, you can begin to decrease the warmth by opening the zipper or removing a layer.
When you start to feel cold again, you can simply put on a layer or tightening the hem.
Customizing the layers
Another common way of adjusting the layered system is by adding extra layers.
A common misunderstanding people have about dressing in layers is that it has to be three layers. The truth is that you should adapt the number of layers you wear to suit the current weather conditions. Sometimes, for example, a warmer autumn or spring day, you might only need two layers. Other days you might need more than three layers.
There are two main layers often added to a standard 3-layer system:
Insulating layer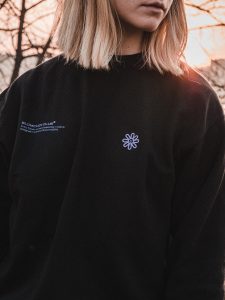 If you need more insulation, it's often better to add another insulating layer. This is more effective and affordable than buying a single middle layer for all the insulation.
The insulating layer should be easy to carry with you. When you are stationary for a longer time, for example when you stop for lunch, you could put on the insulating layer. It's often made of a passive garment that will trap loads of heat but won't breathe very well. This means you should remember to pack it down when you are on the move again.
Because the insulating layer goes over both the base and middle layer, it's a good idea to go for one size above what you usually wear.
Wind stopper layer
The goal of a wind stopping layer is is to protect you better against wind chill while maintaining massive breathability. The wind stopper layer is usually made of woven nylon.
These two layers are not necessary for most layered systems. If you, however, need added insulation or added wind resistance, these layers are great additions to consider.
Pants
The main thing to prioritize when layering clothing is the upper body. The upper body hoses the internal organs, and that's where you'll lose the most heat.
That doesn't mean we should ignore the lower body:
Layering for the lower body is a great way to keep warm even when it's freezing outside.
The most common way of layering pants is to have an inner layer of synthetic leggings. Over the leggings, you need a wind-resistant, water-resistant, and breathable outer layer.
A pair of softshell hiking pants are often a suitable all-around outer layer for mild weather. Softshell pants do not protect very well against wind and rain, so they are unsuitable for wet, windy, and cold weather.
When it's really cold, or you need to protect yourself from snow and ice, a good pair of ski pants is the way to go. We have covered in-depth on how to choose the best ski pants. A good thing to consider is a built-in snow gaiter that will prevent snow and ice from getting into your boots.
Keeping Hands, Face and Toes Warm
Protecting your extremities is the best way to avoid getting hypothermia. It's also an excellent way to regulate body temperature. If you feel too hot, take off your gloves or hat to cool down and bring them back on when you start to feel cold again.
Hands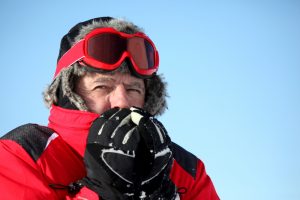 In most temperatures, just having a good pair of gloves or mitts will be enough to keep your hands warm. In really cold weather, you can use the layered approach to stay even warmer.
Use a glove liner inside of your ordinary mitt or glove to get all the benefits of the layered system. The glove liner will not only add warmth but is also a good option for when you need added dexterity, for example, when you open or close your zippers.
Before you go out, having already warm gloves is a great way to start the day with warm hands. Just remember not to put the gloves, especially if they are leather gloves, directly on the heater as it can destroy the outer layers of the glove.
TIP:
When you take off the gloves outside, they are no longer warmed up by your body temperature and will become cold. Sit on them or keep them close to your core under the layers to maintain the heat trapped in the gloves.
Face
According to the National Weather Service, 40% of the body heat can be lost from your head. To protect your face against the elements, start with a warm hat or beanie. If you are doing an activity where you can hurt your head, such as skiing or mountain biking, make sure to instead wear a helmet. Most helmets will keep you warm enough, and some even have added padding. It's never worth risking severe injury or even death by not wearing a helmet.
Another way to protect your face is with a neck gaiter. A neck gaiter is a very versatile piece of clothing that you can use to protect your neck, your face, or even use it as a hat. If you want full protection of your face, go with a balaclava. A warm balaclava is ideal when it's freezing outside.
Toes
Cold feet suck, but there are some easy ways you can keep them warm.
Most quality winter shoes have some sort of insulation that will keep your feet warm, but when it comes to ski boots, it can be more difficult. If you are a skier that suffers from cold feet, you can get custom wool footbeds or install heaters inside of the ski boots.
If you have too tight boots, you'll often get cold from insufficient blood flow. This is especially common in narrow ski boots. To stay warm, unbuckle the top straps to keep up the blood flow.
Trying to layer socks is a bad idea. You might think another layer of socks is going to provide more warmth. This mistake will actually compress your feet, leading to worse blood flow, which will cool you down faster.
A common mistake is leaving your shoes, ski, or snowboard boots wet over the night. Make sure to dry them to avoid any moisture that will cool you down.
The last advice I've got for you when it comes to keeping your feet warm is to think about the rest of the body. If the rest of the body is warm, your feet will also have a much easier time staying warm.
Layering Tips
Now you know almost everything there is to know about layering!
Here are some last tips that will help you stay warmer and have an easier time layering.
Remember to regulate your temperature: Avoid getting so warm you start sweating. Sweat will promote heat loss from evaporation and will cool you down quickly. Adjusting the temperature is especially important for activities with lots of starts and stops, for example, skiing.
Maintain mobility: If you layer your clothes correctly, you'll still have good movement. One of the big advantages of having a layered system is that you'll be able to stay mobile since you can just wear more thin layers instead of a large, bulky single layer.
If it's sunny: You'll get more affected by the sun when it's snowy outside. To protect yourself from the sun's harmful rays, use sunscreen, and add some eye protection to your layered approach.
Get lightweight clothes: This way, it's easy to pack down a layer down in your backpack when you start getting too warm.
Stay away from cotton: We've already mentioned this, but it worth repeating it. Cotton will soak any moisture and will cool you down fast.
Dress for exercise: When you are doing a workout, dress for warmer temperatures than you're currently in. Dressing lighter for the workout will reduce excess moisture, and the heat generated from the exercise will keep you warm.
Keep some space between layers: A small space between the layers will trap the hot air and will keep you warmer.
Heated Clothing:If you're sensitive to cold temperatures, a great way to stay warm is getting heated winter gear. You'll find everything from heated gloves to heated jackets on the market.
Anticipate your body temperature: This is in the same vein as dressing warmer when you are doing a workout. Try to anticipate your body temperature and layer depending on how active you are.
Thumbhole: A neat feature to look out for is a thumbhole in your middle layer. This will prevent cold air from blowing into your sleeves.
Conclusion
In this guide, we looked at the ways you'll lose heat, what the layered system is and why you should consider it.
We also looked at each of the layers in the system, things to look for in each layer, and ways you can adapt it to maintain optimal temperature.
Lastly, we had a look at how to keep the legs and extremities warm and some tips for improving how you layer, and some tips to keep you warmer.
Layering clothes can be a somewhat complex process, but after reading this article, we hope that you'll have it down to a T.
You can now easily stay warm, protect yourself from the elements, and maintain your temperature by layering your clothes.