When your goggles constantly fog up, and you feel discomfort even after you have taken them off, you know it's time to make a change. But how do you find the best ski goggles in 2019?
Imagine having a pair of ski goggles that won't fog up with a solid design and good comfort. There are products like that with excellent peripheral vision. Our goal is to help you find those products.
This guide will go through everything from getting the right fit to choosing the right lens tint. After extensive research, we selected 5 products that are the best you can get this season:

Best Ski Goggles [2019-2020 Ski Season]

How to Select the Perfect Ski Goggles
Buying ski goggles can, at least if you want to have the best ones, be a harder task than you might imagine. There are three key points to getting the perfect ski goggles:
Get the right lens
Get the right frames
Get the right fit
Before I show you how to get the right lens, frame, and fit, let's have a look at why you should not stick with sunglasses:
Why Should You Even Get Ski Goggles?
Some people say you don't even have to get ski goggles. "You can just use regular sunglasses." Here are three good reasons why you should get ski goggles: (and leave the sunglasses home)
Better wind protection – when you ski wind will hit your face. With sunglasses, you'll get cold, and they tend to fog up. Ski goggles will give you a warmer, fog-free ski experience
Stay warmer – ski glasses are sealed around your face and will protect from cold air
Much better impact protection if you fall
Now that you know why you should get a good pair of ski goggles, let's have a look at what to look for in ski goggles:
Lens Shape
You'll usually find ski glasses in one of three shapes, flat, cylindrical or spherical.
Flat lenses are the cheapest shape and have a vertically flat surface. The problem with flat glasses is that you'll get reduced vision and more glare. That's why you should always aim to go for cylindrical or spherical ski goggles.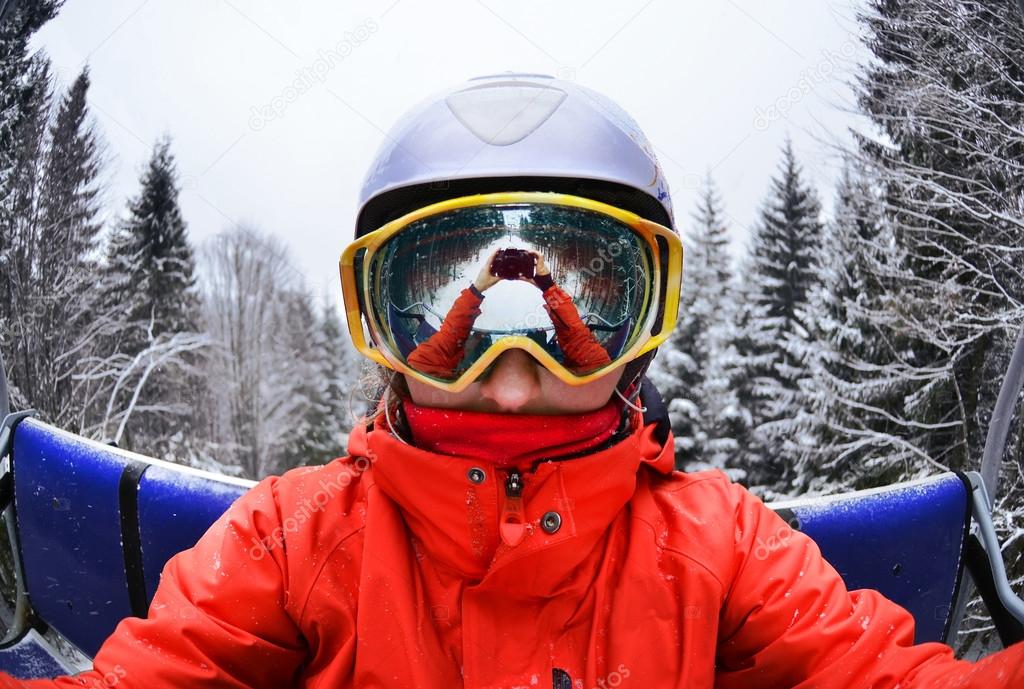 Cylindrical lenses are curved around the frame horizontally but are flat from top to bottom. This is your average ski goggle lens shape. They are simpler to manufacture so you'll get it for a much more affordable price compared to Spherical goggles. This is the shape to go for if you want good performance at a reasonable price.
Sperical lenses are curved both vertically and horizontally. These glasses mimic your eye shape and provide the best peripheral vision, reduced glare and less distortion at the edges of the lens. However, this is a high-end option so if you want a spherical lens, be prepared to pay more than for ordinary cylindrical shaped goggles.
What Lens Tint is the Best?
Yes, the color of the lens is not just for show. There is actually a system to it all, and the answer to what lens tint is the best for you might surprise you.
What lens tint to choose depends on the conditions you are going to be in. There are basically three levels of tint to consider:
Light Tint
The lighter colored lenses are usually found in yellow or amber, but you can also find them in rose, gold, and green. A lighter tint is best used in bad weather. When it's snowy, foggy or cloudy with flat light, lighter lenses is the choice to go for. They allow more light to come through and increase contrast.
Medium Tint
Medium colored lenses are the most versatile choice and can be used in most conditions. They make the most of the available light in cloudy weather and increase contrast in foggy weather. Red, pink and copper colored lenses are best used in overcast conditions. These lenses provide a better perception of depth and add visual contrast. Many lenses with medium tint have a soft mirror effect. This mirrored coating on the inside of the lens prevents light from reflecting back into your eyes.
Dark Tint
Darker lenses are best used for sunny days. We all know it can get bright on the mountain on a bluebird day. To protect you from snow blindness and the intense sun rays, a dark lens tint will lessen the amount of light that passes through the lens. A heavy mirrored brown tint can protect against direct sunlight and help reduce glare.
No tint
There are also clear lenses without tint. No tint is used to get maximum light and is useful if you are skiing in the night or in snowy conditions.
If you have money to spare and don't want to pick a lens tint or use interchangeable lenses, consider photochromic lenses. Photochromic lenses will change tint depending on weather conditions and will adjust how much light coming through. This is excellent if the conditions change during the day. When it gets sunnier, the tint gets darker, and when it gets more cloudy, the lens tint gets lighter.
There are also electric photochromic lenses that work just like ordinary photochromic lenses, but you can manually change tint with a press of a button on the side of the strap.
Should You Get a Polarized Lens?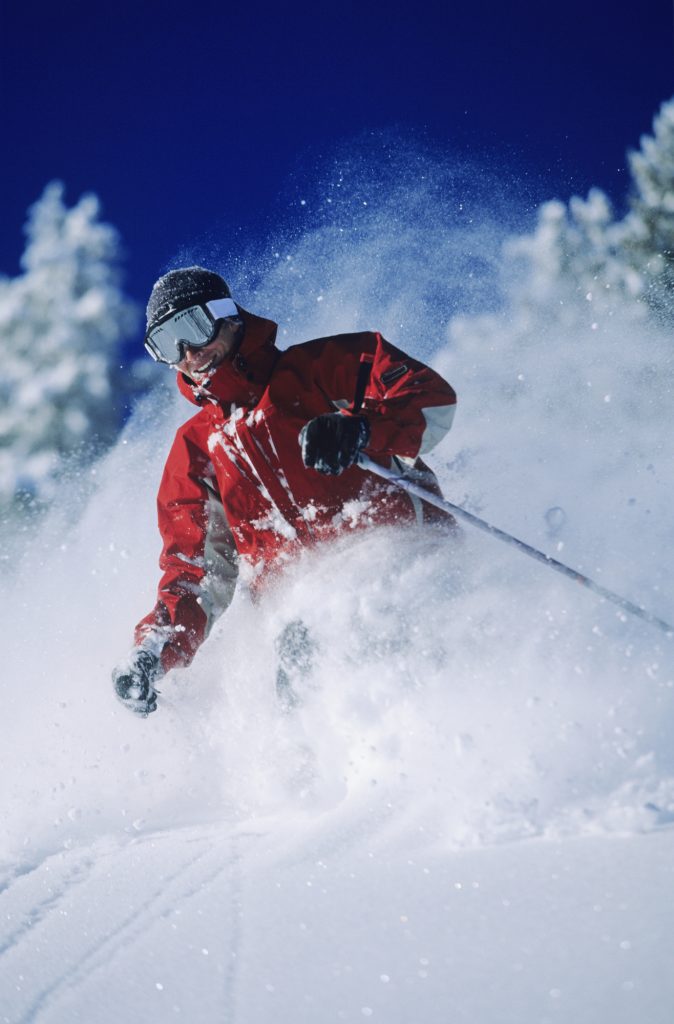 The answer to this question might seem like an obvious yes. But it's not that simple. Yes, polarized glasses will remove glare and only let light penetrate the lens from one direction.
The downside with polarized lenses is that it's much harder to see changes in the structure of the snow with polarized glasses. You won't, for example, see the shine of an icy part of the slope. This means it will harder to know when to adjust your riding style accordingly. A possible alternative to a polarized lens is a mirrored finish, it will still reduce flare, but you can still spot the hot spots on the snow.
Another consideration with polarized and mirrored glasses is that they will scratch more easily.
OTG and Interchangeable lenses
Ski goggles with interchangeable lenses will allow you to change lens depending on the light conditions you are skiing in. Some brands do this better, so be on the lookout for goggles with a quick release mechanism like magnetic lenses. With a good mechanism, you can often save a minute every time you change lenses.
If you wear glasses, some ski goggles will let you wear the goggles over your glasses. These are called OTG (over the glasses) goggles, so if you don't want to wear contacts when skiing, look for a good pair of OTG glasses.
How to Get The Perfect Ski Goggle Fit
The adjustable strap will allow adjusting the fit around your head or helmet. Most ski goggles are designed to have a good fit over a helmet. However, there are some things to consider:
When you wear the ski goggles, make sure there's no gap between the glasses and your helmet.
Not only does it look bad, but you'll also get a large space over the glasses where wind and snow could enter and cool you down.
The eyes should sit around the center of the lens. You don't want to see the outline of the goggles, then they are too small. If you feel the glasses are hanging over your face, get another pair. You want to something that fits and won't let in any air or snow.
Most goggles are unisex. There are women's goggles that are smaller than men's ski goggles. These goggles are good for all people with narrow faces. If you have a larger head avoid goggles with a compact style that might feel uncomfortable and can limit your peripheral vision. Most goggles will fit most people thanks to the elastic band, so the real thing to figure out is the right frames.
Getting The Right Frames
When you take a look at the ski goggles on the market, you'll find many different frame constructions, from really chunky frames to almost no frames at all. So how should you choose?
The material of ski goggle frames is usually the same, polyurethane. It's a really lightweight material that is both comfortable and extremely flexible. The difference is usually in the size of the frame.
Recently frameless ski goggles have become popular. The lens clips straight on the rim instead of under the rim. It creates a clean look and gives you increased peripheral vision. The downside with frameless ski goggles is that it protects a bit worse than traditional frames.
So what frame should you go for? The truth is that as long as you can see clearly and it doesn't feel like in a tunnel, the frame is ok. But for the best goggle experience go for a frame that provides good peripheral vision with a wide viewing angle.
Our favorite Ski Goggles Reviewed
---
Dragon Alliance X1 Ski Goggles: Best Overall
The Dragon Alliance X1 is a stunning set of goggles. The Dragon lenses are one of the best looking lenses on the market and the nice low profile rims, makes for a really cool look.
With a large spherical lens, it has a look that can best be described as oversized. The oversized look is not for everyone, but it has some benefits. The large spherical lens is curved both vertically and horizontally. This allows you to see right through the lens without any distortion. The outside of the lens has been given a hardened coating to repel dirt and water. This coating will make the lens less likely to scratch and add additional durability.
The padding is made of triple layer foam. The inner layer is made of anti-microbial fleece. It has excellent moisture wicking so sweat from the face won't cool you down. On the top of the goggles, there's armor venting that improves airflow to prevent fog.
When you buy the Dragon Alliance X1, you'll get a 2-year full warranty. It covers anything besides scratching. So in the unlikely case that you got a manufacturer defect you can change the goggles free of charge.
A good lens choice for the Dragon X1 is a so-called transitions lens. With a transitions lens, you won't have to worry about what lens to pick on the morning of the ski day. The lens will adjust based on the conditions on the day. The lens provides good contrast in flat conditions as well as in sunshine. Transition lenses are more expensive but are more versatile, so you'll only need one lens no matter the weather.
There is an updated model of these ski goggles, the Dragon Alliance X2. It has the lens fully integrated into the frame and makes it easier to change the lens. In our option, the X1 provides better value for the money, but if you want the Swift lock lens change system, definitely consider the X2.
Pros

Soft padding with good mositure wicking

Excellent lens with long durability and no distortion

Looks really cool
Cons
The ultrawide lens style is not for everyone
You have to pay a premium price for premium quality
---
Zionor X4 Ski Snowboard Snow Goggles: Best Value
If you are looking for the best deal, one of the best ski goggle deals you can get is the Zionor X4. It has the same features as some of the more well-known brands on the list have but for almost half the price.
The lens shape is spherical, so you get the excellent peripheral vision and a cool look. The padding is made of a three-layer rubber coating. It's a warm ski goggle that will keep your face warm even in cold temperatures. It has a nice fit with good helmet compatibility and will stay in place.
It comes in over 30 different lens tints. The lenses are interchangeable and thanks to the 8 magnets holding the lenses in place, it's really easy to change lens. They snap right on when you put in another lens. The lenses are cheaper than the competition; however, the build quality isn't as good. They are more prone to scratches compared to the more high-end options. Another thing to be aware of is that the Zionor X4 comes only with one lens. Make sure to get the right lens tint for the conditions you are going to ski in or get the lenses you are going to need.
The lenses have 100% UV protection so they will protect you fully from both UVA and UVB rays. They have a nice anti-fog coating. However, the vents at the top of the goggles are not the goggles strongest point. This means they can fog up with some helmets.
Pros

Affordable price

Easy to change lenses

100% UV protection
Cons
Lens prone to scratching (scatshes?)
Can fog up with some helmets
Quite bulky
---
Smith Knowledge OTG: Best OTG Ski Goggles
The design of these ski goggles might look quite simple, but don't let the look fool you. These goggles have a really comfortable fit without any pressure points. The lenses provide crystal clear vision, and in low light, it gives good definition to see bumps in the snow.
All around the frame of the goggle, there are air vents that will prevent fogging and keep your vision clear. The inner lens is also treated with anti-fog coating. If you are skiing in dry conditions, they will stay fog-free all day. In wet conditions, fog tends to start building up during the day.
The double layer face foam is dense but not overly warm. The floating foam membrane is incredibly soft and evenly distributes the pressure around your face. On the back of the goggles, there's a wide silicone band that stops the goggle from sliding.
Oakley lenses are very durable and won't scratch easily. The goggles come with a microfiber bag, so if you need to wipe the goggles, you can do it with the bag.
Pros

Comfortable fit without any pressure from the strap

Good lens taht can handle low light perfectly

Good price
Cons
Fogs up in wet weather
Changing the lens take some time
---
Oakley Flight Deck Ski Goggles: Best Field of View
The Oakley Flight deck, as the name suggests, is made from the inspiration of the helmet visors of fighter pilots. This is Oakleys number one product if you want to have excellent peripheral vision.
It has a clean frameless design. The lens is a huge spherical lens that uses Oakleys HDO technology. A lens with HDO has better clarity and no distortion on the edges. Changing lenses is really easy, you can pop the lens right off, and once you changed the lens you just slide the lens back into the frame.
Many ski goggles focus on having a wide horizontal field of view. One thing that the Flight Deck does well is providing excellent vertical vision. No matter where you look you'll get a full field of view without any distortion.
The lens has been coated with an anti-fog coating, and on the top of the goggles, there's a vent that improves airflow and reduces fogging. It stays fog-free in almost all conditions, but in wet conditions it can fog up.
The strap is wide and comfortable and won't move around. One thing people like about the strap is how well it spreads the pressure and the way it sits safely on the helmet.
The padding is made of three layers of foam. The layer against the face is made of microfleece fiber and feels super soft. The padding is not very thick, it's made thinner so the glasses are closer to the face for improved peripheral vision. Another advantage of the padding is the great moisture wicking properties, you won't feel sweaty wearing the flight deck.
If you want added contrast, definitely consider a lens that has the Prism technology. Prism lenses have been carefully calibrated to block strategic wavelengths along the color spectrum to maximize contrast increase overall clarity. Just be aware that your pair of ski goggles only comes with one lens. Prism lenses cost $75, so it's not the cheapest lenses.
Pros

Amazing field of view

Prism technology increase contrast and color

Padding feels soft against the face
Cons
Can fog up in wet conditons
Only comes with one lens
Prism lenses is more expensive than most lenses
---
Spy Marshall: Best Ski Goggles for Narrow Faces
Some of the ski goggles on this list have big, oversized lenses with large frames. If you have a more narrow face, these large oversized goggles won't fit. If you want a quality ski goggle with a narrower fit, then one of the best choices is the SPY Optic Marchall ski goggles.
The Spy Marchall comes with a spherical lens with anti-fog coating. The lens uses Spy's Happy Lens technology. With Happy Lens technology, you'll get better optical clarity, less eye fatigue and can easier distinguish changes in the terrain. On the top of the lens, there's a vent to improve airflow and reduce fogging. Fogging isn't usually a problem with the SPY Marchall, but with a helmet with bad airflow, they can fog up.
The padding of the Spy Marchall Ski goggles is triple-layer foam with a soft and moisture wicking fleece layer closest to the face. It has a nice fit that follows the contours of the face.
The biggest downside of the Spy Marchall is the way you change lenses. It's not as easy as with a magnetic system found in other goggles on the list, and it can be a bit tedious to change the lens.
It comes with two lenses. The lens color you picked and a yellow lens for snowy days. Most of the lenses have 100% UV protection and contain multiple layers of mirrors to avoid any glare.
Pros

Happy lens technology that reduce eye fatigue and improve contrast

Good peripheral vision even if the lens is smaller

Comes with a yellow lens for low light conditions
Cons
Changing lenses is harder than the competition
Can fog up with some helemts
---
POC Clarity Orb: Best Lens
The POC Clarity ski goggles have a price on the higher side of the spectrum, but if you want to have the best possible lens you can get, then these are the goggles for you.
The frame of the goggles is sturdy and will give you a wide field of view. It's a large frame and won't fit all head sizes.
POC has collaborated with optical manufacturer Carl Zeiss to create a lens that will give the best possible clarity by increasing light and contrast.
For those sunny days, the Skeptis gold lens is the best option. It has a nice brown color with a golden mirror finish. The Skeptis gold lens is best in bright weather, but it is alright even when shadows come in.
The Spektis Orange lens is best used in overcast conditions, but if you want a lens that you can use the whole day, it's a solid option. It seems to be able to handle all weather well and still give excellent contrast and clarity. It can handle low light, but on snowy days, it's not as good as a dedicated low-light lens.
Changing the lens on the Poc Clarity goggles is a bit tricky and can be time-consuming. You need to remove the strap, so it's not the type of lens you can change in the chairlift.
When you get these goggles, you won't get any spare lenses. Buying additional lenses cost $125. It's a higher than average price for an extra lens, but these lenses are top-notch.
Pros

Excellent contast and clarity

Sturdy Design

Wide view angles
Cons
Hard to change lenses on the go
Not suitable for smaller faces
Buying addditional lenses is more expensive than average
---
Conclusion
Finding the best ski goggles is no easy task. You'll have to consider the fit, the frame design, the lens shape and then you need to pick the right lens for the conditions you are going to ski in.
We hope this guide helped you understand what to look for and you found a good pair of ski goggles. The ski goggles we reviewed above are all excellent choices to take with you on your next ski trip.
Enjoy your new ski goggles!