The best ski gloves are warm and comfortable with good insulation and have a nice, snug fit.
There are hundreds of products on the market and picking the best ones can be difficult. We have narrowed it down to 5 ski gloves that will work perfectly when skiing. These ski gloves have good protection from the wind, weather, and temperatures, so you never have to worry about stiff and cold fingers.
We'll also cover how to choose the ideal product. Once you have finished reading this guide, you'll have all the necessary information to find the perfect mitt or glove for your next skiing trip.
I know some of you just want to know the best skiing gloves 2019-2020, so further ado:

Best Gloves for Skiing 2019

Best Mittens for Skiing 2019
How to Choose Ski Gloves
One of the most common complaints skiers have is that their hands are too wet or too cold. The right choice in ski gloves could be all the difference. With the right gloves, you'll ski longer, have better comfort and will never have to worry about cold or wet hands.
But many people looking for the right ski gloves make some devastating mistakes. Follow this guide, and you'll learn exactly what to look for when buying ski gloves and ski mittens.
To have a more focused and straight to the point guide, we decided to organize the guide into 5 sections each covering a key aspect in picking ski gloves. Let's start with the most important aspect for a skier: warmth.
Warmth: How to find out if it's warm enough for your ski conditions
Having warm gloves is essential for any skier but what's considered warm enough will depend on the conditions you're skiing in.
There is a considerable downside to having too warm gloves.
Your hands will naturally produce heat that will be trapped in your gloves. If if you are skiing in warmer conditions you'll sweat, and once the sweat cools down it will make you a lot colder. That's why you should go for a glove suitable for the temperature you ski in.
Another way to adjust the warmth is to wear an extra liner if it's really cold. If you're skiing on those warm spring days, thin gloves or pipe gloves is often enough to keep you warm.
The last thing to consider when it comes to warmth is the age-old debate over gloves or mittens:
Gloves Vs. Mittens
A general rule for buying ski gloves is the warmer gloves you want, the more you'll have to sacrifice in dexterity. Warmer gloves are generally bulkier and provide less movement of the fingers. Let's look at the advantages of gloves and mittens:
Gloves
Added dexterity (more practical)
Easier to find the right pair for all weather conditions
Less sweating (better moisture management)
Mittens:
Maximum warmth
Better suited for cooler conditions
What should you choose?
If you are going to ski in really cold conditions, a good pair of mittens is often the better deal. In normal ski conditions, the added dexterity and larger selection is often the better choice. However, don't let that discourage you if you are thinking of buying a pair of mittens. Even if they have less dexterity, mittens are still good enough for holding the ski poles. In warmer conditions, it's hard to find mittens so go for a pair of light gloves.
What makes mittens warmer than gloves?
Your hand functions as a heater. If you separate the fingers in the glove, each one of your fingers has to work on their own. If your fingers are all huddled together, they produce more heat that gets trapped inside the mitt.
Size & Fit:
There is a common saying: It fits like a glove. But what does that really mean?
Having the right size is essential in ski gloves. If you have too small gloves it'll be uncomfortable to wear them all day. If you have too large gloves, you'll easier get cold and it will take a longer time for the gloves to heat up. To understand how to measure your hand and get the right size, have a look at this video:
Once you measured, you can usually find the sizing guide in the description of the glove you're going to get. If you can't find it, a general sizing guide such as this one will be fine.
Features:
Cuff Style – Long vs. Short Cuffs
The cuffs of the ski gloves come either in a long style that's supposed to go over your jacket or a short style that's supposed to go under the jacket. Both styles have their advantages.
The long style of cuffs has the advantage that it'll prevent your arms of being exposed and will keep the powder out. Long cuffs are bulkier, but they are also more weatherproof.
Short cuffs provide more comfort and are often more lightweight. However, gloves with short cuffs are often a bit colder compared to the gloves with long cuffs.
Wrist loops
One really convenient feature in some ski gloves is wrist loops. The wrist loop is an elastic band connected to the glove that you put around your wrist. In case you drop the glove, it'll be secured around your wrists so you'll never have to be worried about losing your gloves.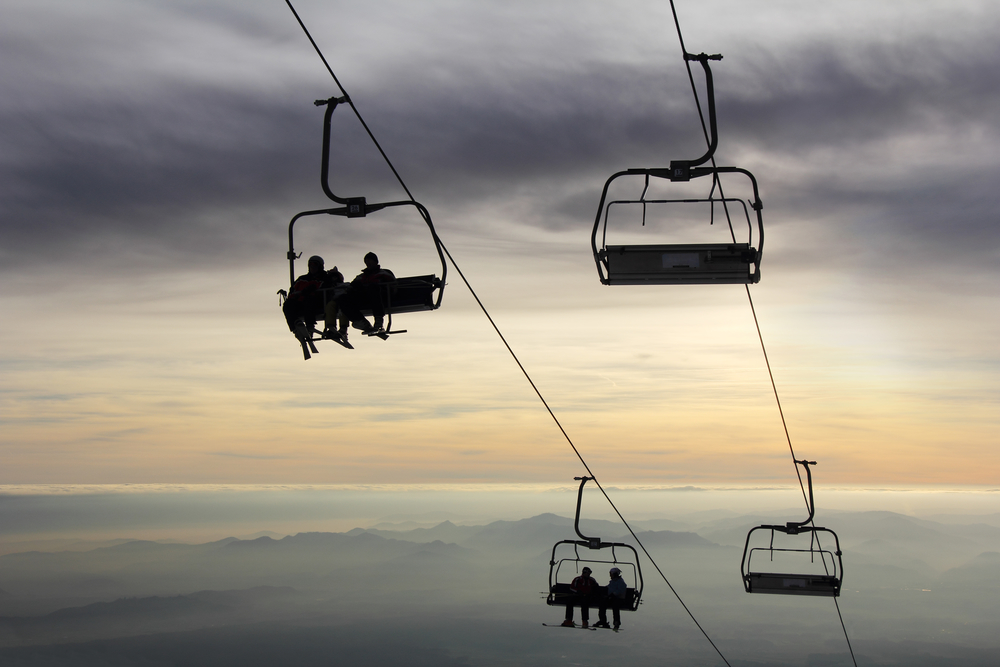 Padding
Good padding will provide extra comfort when gripping the poles. Premium gloves often feature reinforced padding in some key areas to reduce the impact if you fall.
Other cool features
Other cool features in gloves that aren't really necessary but still cool to have are pass pockets, nose wipes, google wipes and touchscreen compatibility. Some gloves feature a pass pocket, a pocket in the glove where you can keep your ski pass to easily get onto the lift by just putting your hand on the scanner. Another cool feature some of the gloves have is a designated area for either wiping your nose or for wiping the fog off your ski goggles. There's also glove on the market that will work on a touchscreen, perfect if you want to use your phone and don't want to take off your warm gloves.
Additional Considerations
Now that you know what glove to go for, there are two additional things you could purchase if you want an even warmer glove, extra liners and hand warmers. An extra liner will help you stay warm even with a pair of gloves that's not ideal for colder temperatures.
If you want the warmest experience possible, consider a glove heater. There are both one-time and rechargeable hand warmers on the market. A very popular choice is Keiyaloe Rechargeable Hand Warmer (see image) but there are a few good options on the market.
Best Ski Gloves Reviewed
---
Burton Gore-Tex Under Gloves: Best Ski Glove
If you want to buy a glove for skiing my first pick would be the Burton Gore-Tex Under Glove. It's an excellent all-around glove with good insulation and some neat features.
These gloves are made of Dryshell 2.layer fabric. It's a material built for high energy riders. This means it's highly breathable and will keep you from sweating no matter if you are in the backcountry, the snow park or cruising down the piste. It's a waterproof and breathable Gore-tex glove so you can be assured it will stay dry all day.
The palm is fully touchscreen compatible so you can use your phone as much you want without having to take off the gloves. One small complaint is that the thumb is quite thick, so it gets a bit harder texting when wearing the gloves. The palms of the gloves have a good grip, perfect for a firm grasp of the poles.
These gloves are suitable for most temperatures. In really cold conditions they will keep you warm. Customers that have worn them in temperatures of 0 Fahrenheit report they felt the gloves still kept them warm. If it gets warmer, for example on sunny spring days, you can just ski with the inner microfiber liner. The disadvantage of skiing with just the liner is that the inner liner isn't touch screen compatible.
The fit of the gloves is based on a pre-curved ergonomic fit. Some customers felt that it took some time to get used to the fit but once they got used to it they thought it was great. You get heaps of dexterity in these gloves!
If you want to find a glove that goes well with the rest of your ski outfit, you're in luck. These gloves come in 8 different designs. And if you ever feel it's not up to what you expected, you can always return it thanks to the 1-year guarantee.
Pros

Warm

Touch screen compatible

Excellent value
Cons
Liner is not touch screen compatible
Bulky thumb can make texting harder
---
Jasmine Women Thinsulate Lined Gloves: Best Women's Gloves
Typically, most unisex and even male models in smaller sizes work great for women, but if you want a glove made specifically for female hands, a good option is the Jasmine Gloves. They have an excellent fit with reliable protection from the weather.
A feature a lot of customers of the glove love is the touch screen compatible thumbs and pointer fingers. Whenever you have to open the phone on the slopes you don't even have to take off your gloves. The thumb also has a lens wipe so you can wipe fog or snow from your goggles without having to worry about any scratches.
The lining has 40g of 3M Thinsulate insulation. This means it provides good protection from the weather while still maintaining a stylish, lightweight profile. 40 grams of insulation is good enough for most skiers, but if you are going to ski in really cold conditions, they will be too thin. I would then recommend gloves with better insulation or a good pair of mittens.
On the top of the gloves, there's a discreet pass pocket, that will allow you to keep valuables or the lift card safely secured in your gloves. This will make scanning the ski pass more convenient, just hold your hand against the scanner and you're in.
The biggest drawback of these gloves is that if you take the gloves on and off much, it can get a bit damp on the inside and it doesn't dry very quickly.
The fit is one of the strongest points of this glove. It has a very flexible fit, and you can easily adjust the fit with the velcro straps. It's available in many different colors, from neutral black gloves to colors that will make you stand out on the mountain such as light blue or stylish white. No matter what color you decide to go for, it's one of the best women's gloves you can buy.
Pros

Lightweight

Nice pass-pocket

Lots of cool design options
Cons
Warm, but not for sub-zero temperatures
Inside does not dry quickly if it gets wet
---
The North Face Etip Gloves: Best Spring Glove
If you are looking for a lightweight glove for those warm spring days at the end of the ski season, one of the best gloves to go for is the North Face Etip Glove.
North Face is known for its high-quality products, and the Etip Glove is no exception. It's a glove made of 93% polyester and 7% elastane. The material is lightweight and has a nice and consistent fit. It's also straightforward to wash this glove.
Thanks to the Radiometric Articulation technology, the hand is kept in a relaxed and natural position. On the palms of the glove, there are silicone grippers that make it work with smartphones. You can easily use your smartphone without having to take off the gloves.
Remember, this is a ski glove best suited for warmer weather. It can handle snow and some wind, but it's too light for the really cold days, so this is not an all-around option. However, on those warmer ski days, it's an excellent ski glove. It's not warm enough that you'll sweat, and thanks to the lightweight design, you can quickly put it in your pocket if you feel it's getting too warm.
Pros

Good fit with four-way stretch

Can use it on smartphones

Easy to wash
Cons
Not suited for cold weather
Not fully waterproof
---
Best Ski Mittens Reviewed
N'Ice Caps Unisex Gloves: Best Budget Mittens
If you are looking for a warm mitten but are on a short budget, you should definitely consider the N'Ice Caps Unisex Gloves. These gloves have a waterproof and breathable membrane and a fleece liner.
The insulation is made of 100g Thinsulate. This is plenty of insulation that will keep your hands warm even on the coldest days. The fit is highly customizable with adjustable and elastic straps. The lining is made of fleece and feels soft and will keep you warm even on colder days.
An example of how well this glove will keep you warm comes from a reviewer on Amazon. He fell early on the skiing day and got powder inside the glove. Even if the glove was damp on the inside, it was warm enough to ski the whole day.
The drawback of the glove is that the material on the palm is quite slippery compared to other gloves on the list. A few customers also had complaints on the fit of the gloves. They felt the seam between the thumb and the fingers stopped them from pulling up the gloves the whole way. However, this is a budget option, and for the modest price it cost, it's definitely worth considering.
Pros

Affordable price

Customizable fit

Awesome warmth for the price
Cons
Slipperly palms
Some felt the fit was uncomfortable
---
Hestra Mittens: Best Premium Mittens
If you want an excellent glove that will handle any temperature or weather, go for the Hestra Mittens. But for this premium glove, you have to be willing to pay a premium price.
With a price point more than twice the price of its competitors on the list, this glove is more of a high-end option. However, the warmth and comfort you get with this glove are hard to beat.
This is a mitten best suited for cold days. If you ski in anything over 25 degrees Fahrenheit (~-4 degrees Celcius), it will be too warm. But if you ski in cold temperatures, it will keep you warm even in sub-zero conditions.
These mittens go over the sleeves, so it's a good choice if you are a powder skier that want to keep powder out of your jacket. It's made of Hestras Triton 3-layer fabric. It's very durable with leather palms. It has high-quality wrist straps that will make taking on and off the gloves in the lift easier as you don't have to worry about dropping them.
One of the great things about this glove is that it will even keep the thumbs warm, something not many mittens can do in sub-zero conditions. If you always seem to have cold hands, or just want a really warm and comfortable mitten, then I highly recommend this product.
Pros

Super warm

Durable

Excellent build quality
Cons
Expensive
---
Livingston Women's Thinsulate Mittens: Best Womens Mittens
The best women's mittens you could buy is probably the Livingston Women's Thinsulate Mittens. These mitts provide excellent warmth, convenient features, and good moisture wicking. This means you won't sweat and they will keep you warm on almost any ski day.
The insulation is made of a 3M Thinsulate lining that will provide good warmth but still have a lightweight feel. The exterior of the mitt is made of polyester and olefin and protects against water and wind with ease. On the fingertip, there's a reinforced textured grip, that will give you a better and more secure grip. This is excellent for both holding the sticks and on drag lifts. On the back of the thumb, you also got a lens wipe, so if you get snow or fog on your ski goggles, it will be easy to wipe it off without having to worry about any scratches.
The design of the glove is really well constructed. It's lightweight and protects well against both wind and water. One of the things that make the Livingston gloves stand out is the excellent moisture wicking. The downside is that if you get snow inside the glove, it tends to dry slowly and can in worse case stay damp the whole day.
Most of the customers on Amazon felt like the fit was as expected, but some thought it was a bit too small fit for their hands. One great feature of the Livington mittens is the adjustable velcro strap that provides a much more customizable fit. When you put on the Livington mittens you'll feel the soft and warm interior of the glove.
A feature a lot of customer love is the zipper pockets. You can easily place the ski pass inside the mitten and just hold up your glove to scan the lift pass.
One thing to consider is that even if this is a mitten that can handle cold weather, it's not the warmest one. If you are skiing in really cold weather, it might be too cold and you probably have to go for a warmer more high-end mitt.
Pros

Conviniet zipper pockets that makes scanning the ski pass easier

Comfortable liner with good moisture wicking

Very soft and comfortable
Cons
Dries quite slowly
Not for really cold tempertures
---
Conclusion
If there is one thing that is sure to ruin a good ski day, it's cold hands. To avoid cold hands you'll need to find the best ski gloves, and that is what this guide hopefully has helped you with.
With the right warm, comfortable, well-insulated ski mittens you won't ever have to worry about cold hands again.
Consider how much warmth you'll need. For warm weather such as spring skiing, the North Face Powerstretch gloves is an excellent alternative. Two good gloves for all-around skiing is the Burton Gore-Text Under gloves and for women the Jasmine Womens Thinsulate Gloves.
If you want the most warmth and can handle a bit less dexterity you should instead focus on the best ski mittens for skiing. A good cheap mitten option is the N'Ice Caps Unisex Mittens. If you, however, want the most warmth possible consider mittens from Hestra.