Choosing the right ski clothes can often be a bit confusing, especially when you're not 100% sure what to look for. Prepare For The Wild will show you what to look for so you can find the right ski clothes.
Getting the right ski gear is such a broad topic that it would take over 10000 words to get it all down. Instead of creating one massive article we thought it would be more beneficial to have this as your starting point. If you then need more in-depth information, you can read it in on our guides about each item of ski clothing.
The Clothes You'll Need For Skiing:
Ski Jacket
Ski jackets have two main purposes:
It must trap the warmth from your body while protecting you from the weather.
It has to be breatheable enough that it won't tap excess heat so you you'll sweat and get cold once the swaeat is cools down.
The best ski jackets have a good combination of warmth and breeathability so you can stay warm and dry.
Ski Pants
A good pair of ski pants will give you a comfortable fit and keep you warm and dry. Before you buy ski pants, you should consider things such as how breathable, how waterproof and the type of insulation they have. All those are factors we cover in our ski pants guide.
In our guide of the best ski pants, we'll go through everything you need to know about ski pants and share our five favorite ski pants this season.
Ski Gloves or Ski Mittens
Having cold hands will make an otherwise nice ski day painful. Choosing the best ski gloves is essential for long fun ski days.
What ski gloves to choose depends on the conditions you're going to ski in. For freezing weather, a pair of warm mittens is often the best choice. If you are skiing in warmer weather (such as in the spring), a light pair of gloves is the way to go.
Base Layers
When out in cold weather it's important to have a layered approach to your clothing. Under your ski pants and under your ski jacket, you should aim to get a comfortable and warm base layer. With the right base layer, you'll stay warm the whole ski day.
Ski Socks
Having a good pair of ski socks is essential for a good ski day. Ski socks have excellent moisture wicking that will keep the sweat away and prevent your feet getting cold. Many ski socks also have reinforced padding to improve durability and reduce impact.
Different ski socks come in different materials and different designs. To find out which are the best schek out our guide on the best ski socks 2019-2020.
Face Protection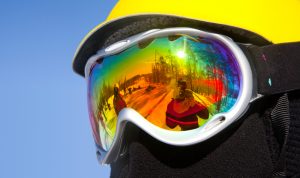 When you ski, the cold wind will hit your face. The best way to protect your face from the wind and the cold temperatures is to get a balaclava or a neck gaiter. Balaclavas often provide the best warmth for the price, but neck gaiters are very versatile and can be used in more ways than a balaclava. No matter what you go for, getting good wind protection for the face is definitely worth it.
Ski Goggles
Choosing the right ski goggles can be a difficult task. Not only do you need to find a pair that fits your face at a reasonable price. You'll also need to consider the frame size, the lens shape, the lens color and what features the ski goggles cover.
To help you choose the best ski goggles we created the ultimate guide to the best ski goggles 2019-2020. That guide covers everything you'll need to know to get the perfect ski goggles.
Ski Helmets
Last but least, you'll need a good helmet. In most ski resorts wearing a helmet is optional and you could wear a beanie instead. However, for your own safety, a good ski helmet is a must-have.
These days modern ski helmets are light and comfortable enough that you won't even notice you're wearing a helmet.
Conslusion
I hope this short guide has been a good starting point in choosing the right ski clothes. Getting the right ski clothes can be difficult, but we hope this site will help you get the right ski clothes for many amazing ski days.